Senate Meeting: Public Safety officials comment on pandemic protocols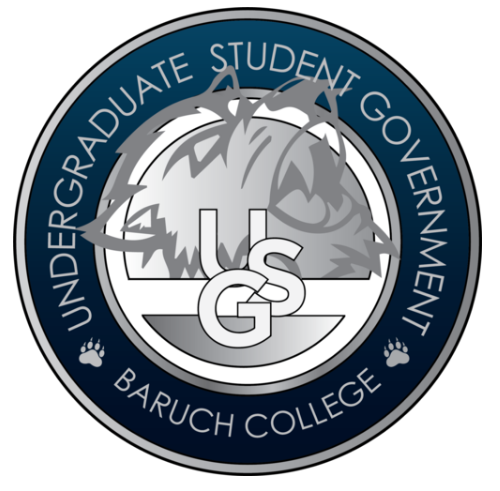 Baruch College's Undergraduate Student Government met for its seventh Senate meeting of the fall 2021 semester on Oct. 19.
Public Safety Lts. James Francis and Latoya Whitehead introduced themselves to USG.
Francis's most recent position was lead instructor at CUNY's Public Safety training facility. He started at Hostos Community College, was promoted to patrol sergeant at John Jay College of Criminal Justice and later became lead investigator at Bronx Community College.
"My goal here and my job here is to make our operation as seamless as possible while being student-centered," Francis said. "We want to make sure that the students have as safe and productive experience here as possible."
Whitehead comes from York College, where she spent five years as a campus peace officer and five as a sergeant before moving to Baruch.
"This is your home, and I would love to be welcomed and call this my home as well, this is my home now," Whitehead said. "So hopefully we can communicate with each other and keep us in the loop and we'll do these meetings again. We would like to be invited more often and we can just make sure we get things running as smoothly as possible."
Francis commented on an incident mentioned by Chair of Philanthropy Jason Galak in a prior Senate meeting. Galak alleged that an officer prevented a student with a valid vaccine exemption from accessing the Newman Vertical Campus.
Francis said that the department anticipated issues in enforcing the mandate. In this case, he said there was a miscommunication on protocol. He added that officers currently may verify exemptions by checking a list of exempted students due to an ID systems error.
"If a student A comes in and they have an exemption, the first thing we're going to ask them to do is punch in their EMPL if their ID is not working," Francis said. "If that's not working then we check the list."
Francis said that the department is working on allowing exempted students to enter Baruch facilities by swiping their cards.
"We're still working on uploading all that information and it's a lot of students," he said. "But it's happening."
USG President Alison Lee raised concerns regarding students not complying with mask mandates in the places like the club suite area. Francis said that officers try to patrol as much as they can, but with few personnel, certain areas can get overlooked.
Lee also asked whether Public Safety is responsible for enforcing elevator capacity limits. Francis said that officers previously ensured that students properly exited and entered the elevators and was unsure if his department was responsible for upholding capacity limits.
Lee later asked how USG could help Public Safety. Francis shared that certain students are sharing their IDs to others to potentially access the campus. Reported incidents are now written up and sent to Associate Director for Community Standards Brandy Peer.
"If we have someone coming onto campus and we haven't verified them, we can't do any contract tracing, we don't know who the person is," he said. "That's our big issue right at this moment."
Assistant Director of Leadership Development Dinetta Curtis announced that the club suites will be converted to study rooms and the Aaronson Student Center will be open for students on Nov. 1. The club suites can be reserved online.
Vice President of Legislative Affairs Karina Chiqui mentioned that library scanners aren't functional. Vice President of Campus Affairs Erika Cumbe said she was told that the scanners are a high-touch area and they're out of use because there aren't personnel to clean the equipment after individual use. Rep. Sens. Shokhrukh Dustmurodov and Humas Ali will mention this issue as part of the technology fee committee.
Rep. Sen. Larry Gomez said that the "Jingle Bell Run" virtual 5k will be delayed to December and donations will now benefit the Student Emergency Fund and Baruch College Online Food Pantry. Baruch Athletics will host a separate virtual 5k in November.
Chair of Arts Leslie Aucapina said that a Halloween costume contest will take place on Oct. 28. There will be separate categories for individuals and groups to win prizes. Curtis said she will find a suitable location for a costume photoshoot.
Rep. Sen. Damani Heywood said that the "Self Defense Workshop" will take place on Oct. 28. Interested students must sign a waiver up to 30 minutes before it begins.
Executive Vice President Richard Reyes said USG will purchase movie tickets for the Office of Student Life to distribute to students for free, which was done in previous years.
Aucapina is looking for applicants to fill two vacant vice chair positions. The application will close on Nov. 8.
Vice President of Academic Affairs Osvaldo Garcia said an American Sign Language elective survey will be distributed online to gauge interest.
Reyes shared a student concern regarding library construction during class hours and midterms week and asked if the schedules could be altered. Curtis said that the pandemic put construction on hold until recently.
Curtis also recommended emailing Vice President for Information Services and Dean of the Library Arthur Downing to inquire if construction could be paused during finals week.
Reyes suggested a social media campaign to drive student interest in USG committees, similar to the representative senators campaign earlier in the semester after Galak reported that he had only two applicants for two vice chair positions.
Curtis added that USG could also utilize the rolling boards near the Office of Student Life to increase exposure. She will also inquire as to whether clubs could utilize the bulletin board in the club suites to increase interest in virtual events.