Baruch students' startup 'Element' wins CUNY-wide qualifying competition for Hult Prize
Teams of Baruch College students worked together to develop and pitch ideas for sustainable fashion ventures at CUNY's university-wide qualifying round for the Hult Prize competition.
Four months after the competition was announced, five teams of CUNY students entered the Lawrence N. Field Center for Entrepreneurship on Feb. 24 to present their startups. Three teams of Baruch students were named the top three winners, with the five students who developed the startup Element were ultimately chosen to move on to the next round.
A panel of three judges listened to the pitches of CUNY students, who hoped to advance their startups and win the $1 million prize at the final round of the Hult Prize. The annual, yearlong competition challenges university students from around the world to pitch a for-profit venture to address a specifically chosen social issue every year.
This year's competition sought out ventures aimed at making fashion more sustainable. Each participating venture was also required to align with at least one of the United Nations' 17 sustainable development goals, such as climate action and responsible consumption and growth.
"This is our very first year doing the on-campus competition," Muhammad Elbadri, the Hult Prize campus director for CUNY, said in his opening remarks. "It was supposed to happen last year, but it didn't work out. This year, I became the director of the organizing committee with amazing individuals that really helped out, and it's been an amazing experience."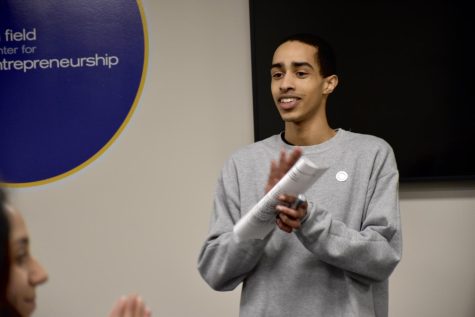 The judges at the qualifying event included Stephanie Perschiera, a business consultant who earned her master's degree from Baruch; Christina Torres, a climate activist who teaches at the Fashion Institute of Technology; and Nakim Williams, an entrepreneur in the fashion and entertainment industries.
Within five minutes, each team discussed what its startup idea is, what issues it aims to solve, who makes up its target audience, what business model it follows and what research it has done.
Three team members of Effakit pitched their subscription-based platform, which would use body-scanning technology and artificial intelligence to match consumers with clothes that best fit their body shape and size. Chief Marketing Officer Djamina Drabo explained that by purchasing the "perfect fit," consumers would save time and money for themselves and retailers.
Two members from ReTailor's four-member team presented their phone app, which would allow users who want to upcycle old clothes to find app-certified local tailors to help with sewing. 
Winning third place, Appraise markets itself as a phone app that would enable users to make informed purchases by identifying the material composition of an item. Using the material information, the app would estimate the price of each item and the amount of labor that went into producing it.
"Many companies spend a lot of money on marketing, but we want our consumers on the app to have a real understanding exactly what their item is worth," Joyce Chen, the product manager for Appraise, said during the team's pitch.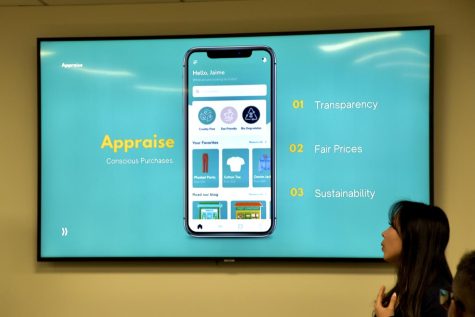 Winning second place, PolyDac would connect small businesses with environmentally friendly suppliers that offer fair prices. The venture was represented at the competition by founder Tiffany Wu, who was inspired by her experience running her clothing brand, Duckingnice.
"I've always wanted to be eco-friendly, and I found that it's so difficult," Wu said. "If I can, I would love to solve this problem."
While the winning team automatically qualified to attend the next round in Boston, Elbadri said the other teams had a second chance to advance if they submitted milestone applications by March 1.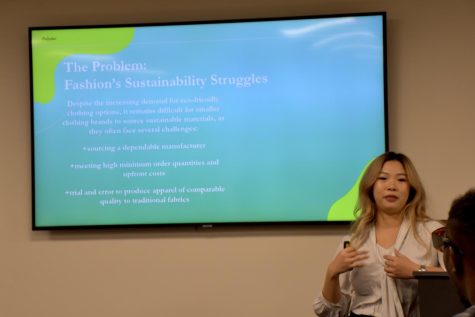 Winning first place, Element would allow users to have a community-based social platform for selling unwanted clothing and seeing posts that feature outfits from members of their area. Another feature from the app would analyze electronic receipts from users' email accounts so they will be alerted before they buy a repeat or something similar to an already purchased item.
After Elbadri announced their victory, CEO Ying Huang, Chief Marketing Officer Shana Persaud and Chief Legal Officer Pilar Lope Velasquez smiled as they walked to pick up a novelty oversized check for $300, the prize for the qualifying round.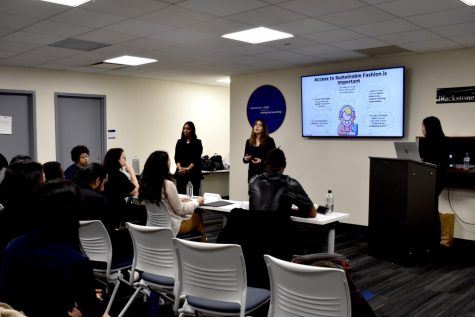 Persaud noted that, unlike other teams, her team members focused on starting small and local rather than focusing on the whole world so that they may expand out over time.
"Even though your vision could be big sometimes, it should be small," Lope Velasquez added.
Element's team members also work as research analysts for a program run by the Weissman Center for International Business. They credited Myung-Soo Lee, the center's executive director, for relaying knowledge about corporate sustainability to them.
"I personally would like to thank all my teammates for being awesome and joining this wild ride with me," Huang said. "Whatever the outcome may be in the future, the experience is worth it. It's definitely my honor to meet and work with the people in this team."