Field Center's festive 'Marketplace' showcases businesses run by Baruch community
Baruch College's Lawrence N. Field Center for Entrepreneurship invited students and faculty to shop locally at its inaugural "Baruch Marketplace" event from Dec. 6 to Dec. 8.
After swiping in their ID cards to enter the Field Center, attendees were welcome to peruse through the 13 businesses present, all run by members of the Baruch community. The center offered each attendee an orange ticket that could be redeemed for a cup of hot chocolate or apple cider. The drinks, candy canes and cookies were available in limited supply.
Each business had its own booth, where owners displayed and sold their products. Goods ranged from sweets to clothes, while one business offered a service to create skateboard art.
Duckingnice featured plushies and merchandise with its signature duck characters. Tiffany Wu, the brand's founder, won the inaugural "Essence of Entrepreneurship" mural contest in May for her design, which featured her duck illustrations.
Wu's table offered an incentive for students, those who followed the brand's Instagram page received a free sticker.
"I think ever since we started the event, we've gained over 100 followers," Wu said. "I'm excited that we've been able to get those numbers."
Homme D'Affaire is a clothing brand founded and operated by members of Baruch's chapter of the College Entrepreneurship Organization, which is sponsored by the Field Center. Members sold clothing such as hoodies and crewnecks with the brand's embroidered logo from their office in the center. Many students participating in the event and manning tables were seen wearing the designs from the brand.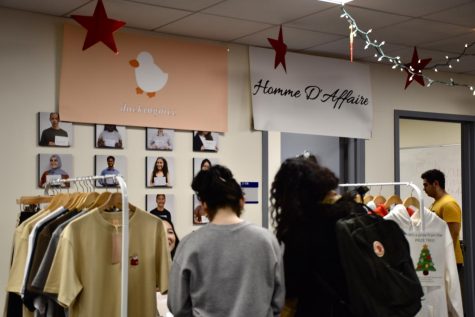 Honey Gloe is a skincare company founded by Baruch student Luzmary Aybar. She offers lip glosses, scrubs, face masks and serums that she curates herself.
"Honey Gloe is run by me, an Afro-latina entrepreneur starting at 15 years old, who is trying to break the beauty standard of perfect, blemish free skin," Aybar wrote on her business card, which she distributed to attendees.
Joi Shea Butter is also a beauty brand. It offers whipped body butters, neroli and bergamot hand soaps and sugar body scrubs. Karima Gil, who serves as the administrative events coordinator for the Starr Career Development Center,  created this brand from her home.
"She started this brand eight years ago," Jillyenne Martinez, Gil's niece, told The Ticker. "She's been doing this for a while now."
In the spirit of the season, Joi Shea Butter offered holiday bundles, peppermint scrubs and lavender soaps. Gil said on Dec. 7 that she's made some sales at the event, hoping that the turnout remains positive throughout the event.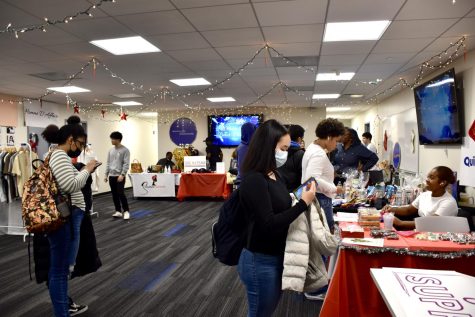 MoMo's Popcorn is a Brazilian artisanal popcorn business founded by Monique Peres in 2020. But when the pandemic hit, she was forced to halt production. She's now getting back into selling her popcorn to new consumers at the marketplace. The popcorn is made with Brazilian chocolate, which gives it a unique taste compared to other brands of sweet popcorn in the market.
The business offered popcorn with a variety of flavors, some including chocolate and coconut, chocolate and peanut butter, strawberry milkshake, and Nutella and white chocolate. Peres said her childhood inspired the business' variety of flavors.
Peres offered attendees samples of her signature popcorn. Attendees were able to buy popcorn in small, medium and large bags plus box sets that included six kinds of flavors.
Sweet[ish] by Nae sells sweet home-baked goods. Founder Naomi James sold sweets such as chocolate-covered strawberries, cakes and cupcakes.
At James' booth, she offered brownies for students to purchase. For further purchases like chocolate covered strawberries she gave her business card out to participants.
Thrifts N Bits is a home decor business that sells products made from recycled materials as well as DIY crafts. Run by CUNY Startups Associate Director Adia Johnson, the business sells clutch bags, hats, hoop earrings and bralettes that she created herself.
Muslim Presents is run by Muhammad Elbadri, who serves as a student ambassador for CUNY Startups and campus director for CUNY's Hult Prize competition. He offered prayer rugs for students to purchase at $25 each.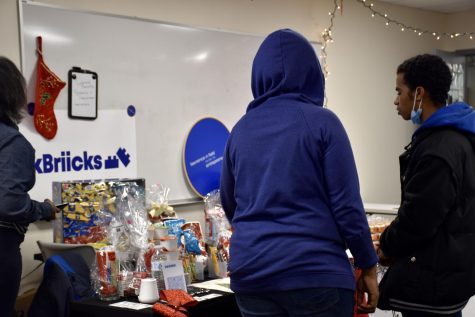 Quiick Briick, a startup that launched with support from the Field Center, held a fundraiser to support its research and development to create sustainable construction goods.
In addition to refreshments and businesses, a limited supply of prizes were offered to the first 35 students who spent over $20 at the marketplace.