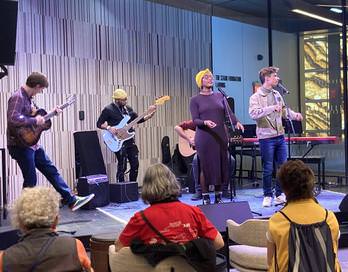 The Borough of Manhattan Community College held its inaugural student concert at the Perelman Performing Arts Center in Tribeca on Sept. 27. 
BMCC students, families and curious onlookers watched 13 performances by 14 student and faculty musicians in the Music and Arts department. The setlist was a medley of contemporary covers and original songs spanning numerous genres such as R&B, bossa nova, jazz and country. 
Program coordinator and associate professor Quentin Angus told the audience the college partnered with PAC NYC and held auditions to organize the concert.
 "We've literally been talking to folks from PAC for years [so] we're happy this is finally coming into fruition," Angus said during an introductory speech. 
PAC NYC artistic director Bill Rauch explained the partnership's goals in a September press release.
"These partnerships will invite and include our neighbors from all five boroughs, connect people across differences, and help us discover how art can continue to inspire and heal," Rauch said. 
Music performance major and singer Jasmin Daley said she has experience performing at BMCC, but it was her first time singing at an event open to the public. 
"I think [the concert] differed [from other performances] because we weren't really in a school environment," Daley said in an interview with The Ticker. "This is a new place and a new vibe and environment, so I think it was very nice to finally do something with everyone else outside of school, cause we're usually just cooped up in there and like 'we wanna get out!'"
Daley also said she and other students were likely to return to PAC NYC's Vartan and Clare Gregorian Stage soon to perform more concerts. The performance center's stage opened last month and is in the lobby.
Gabriel Kerolle's soulful voice and Amaree Bowen's acoustic guitar on their interpretation of Max Frost's "White Lies" drove the audience to snap their fingers along the beat. Students and fellow musicians also cheered their peers on during and in between performances. The audience's interaction and the small stage created a heightened sense of intimacy.
Stephanie Marrow and Jee Ahn's rendition of "Moondance" set a laid-back mood with its minimal jazzy piano playing and vocals.
Josue Tejada and Ahn's cover of "Until I Found You" transformed the oldies-inspired TikTok hit into a silky number accompanied by acoustic guitar. When the performance started, Tejada's self-introduction was brief and quiet, but he soon released a loud and passionate voice.
Out of the various performances, many students concurred that the last number featuring a six-piece ensemble was the afternoon's most memorable moment. Bowen, Marrow, Elias Solomon, Jaime Diazgranado and Mike O'Donnell's upbeat "Love Theory" featured two vocalists, two acoustic guitars and a bass. The students stayed true to the Kirk Franklin song's energetic and funky nature. 
"The last part where a lot of people came together and played that one song, it got me dancing in my seat," music major Jason Cuzco said in an interview with The Ticker. 
BMCC plans to continue hosting performances on the third Wednesday of every month at PAC NYC. These events include a monologue slam on Oct. 18, a student concert on Nov. 5, and a "storytelling live" on Dec. 20 featuring students and faculty from the Speech, Communication and Theatre Arts department. All events are open to the public and free to attend.
BMCC's own Tribeca Performing Arts Center is located on the college's campus, about six blocks from PAC NYC. Its future programming includes theatrical, dance and musical productions.  
The setlists for future BMCC student performances have yet to be announced.