Biden's funding for Hudson Tunnel Project should've went elsewhere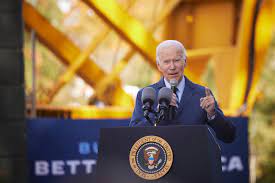 President Joe Biden traveled to New York on Jan. 31 to announce a $292 million federal grant to help renovate a critical tunnel that runs beneath the Hudson River between Manhattan and New Jersey.
This move is part of the administration's broader effort to distinguish between his economic vision and that of GOP lawmakers, who claim that federal expenditures impede growth and that the priority should be balancing the budget.
Biden's visit occurred at a time of great unrest in New York City. The municipality is reaching its breaking point as the Adams administration tries to address a staggering $2 billion migrant crisis at the same time as rising crime rates and housing costs.
Mayor Eric Adams has publicly asked the federal government for $1 billion in aid at the same time that he declared a state of emergency over the city's migrant crisis last October.
The Federal Emergency Management Agency has since confirmed that its Emergency Food and Shelter Program's National Board was reviewing the city's funding request. However, FEMA "does not share information regarding pending applications and will only share award amounts upon application approval," a spokesperson told the NY Post.
As of today, the federal government has approved $800 million in grants for states, local governments and non-governmental organizations processing the increase in migrants.
Despite this, anything short of $800 million is already a far cry from the $2 billion the Adams administration most recently estimated the crisis would cost.
Thus, Biden's press conference represented a gross misalignment of priorities with that of the city's administration. The event took place just a mile south of an ongoing migrant protest at the Watson Hotel in Hell's Kitchen, of which the president made no note of in his remarks.
The federal money Biden announced is just a chunk of $1.2 billion in "mega" grants being awarded under the 2021 infrastructure law.
It will be put toward completing the concrete casing for an additional rail tunnel beneath the river, as well as preserving the right of way for the original tunnel.
"It's the beginning of finally constructing a 21st-century rail system that's long, long overdue in this country," President Biden said. "In addition to getting folks out of cars and onto trains, we're going to help the environment, as well."
During his visit, Biden failed to drop in on any of the city's supportive housing or emergency migrant intake centers.
The federal funding will certainly improve the commute for anyone traveling from New York to New Jersey. Yet, it seems apparent the Biden administration settled on this cause to fund to spite Republicans more-so than to improve the health of New York City.