Faculty Senate Meeting: Enrollment statistics and student grievance form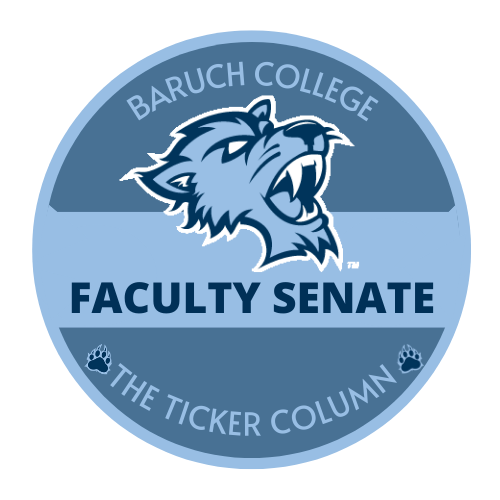 The final faculty senate plenary session for the fall semester of 2022 took place on Dec. 1.
Professor Martell opened the session by discussing one of the strategic goals of support for faculty research and pandemic funds appropriated to Baruch College by the federal government.
"The money was specifically allocated to Baruch with specific justifications of how this money can be used," Martel said. "While we have some flexibility, it isn't like we have wide discretion on how that money can be spent. Technology, yes. New Faculty salaries, no."
Vice President of Enrollment Management Mary Gorman outlined a report summarizing recent enrollment statistics, including trends from the last five years.
A highlight included in the report was that Baruch, as of this year, is recognized as a Hispanic-serving institution. Meaning that more than 25% of full-time undergraduate students identify as Latinx or in federal census terms, Hispanic.
It was reported Baruch achieved the highest ever four-year graduation rate of 56.3% and a six-year graduation rate of 74%.
Vice President Gorman proceeded to share population statistics with respect to degree types, ethnicity, graduate and undergraduate students.
A key trend is the number of undergraduate students enrolling in fall semesters has been slightly increasing over the last five years, beginning with 14,574 in the fall of 2018 and 16,242 enrolled in the fall of 2022.
Baruch enrollment is up 10.2% since fall of 2018, whereas CUNY senior colleges are down 8.3% and CUNY overall is down by 19.3% since fall of 2018.
Some challenges to undergraduate enrollment growth can be attributed to Baruch's current relatively low national visibility, as well as community college decline due to changes in the transfer market and NC DoE K-12 enrollment being down 9.5% since the start of the pandemic.
President S. David Wu gave a report discussing the initiative to bring enrollment rates up, such as support for faculty research, progress on strategic planning and further developments on Baruch's additional pandemic funds.
"I thank you for the active participation most of you have already had and we are close to the end of phase one of this [strategic planning] process, which is engagement and listening," Wu said. "We will move on to find out some of our preliminary findings."
Provost Essig discussed in her report the CUNY transfer initiative and how crucial it is.
"We are a public university dedicated to excellence and access and outcomes, and that means including our transfer student in the mix," Provost Essig said.
To conclude the session, Vice President of Student Affairs, Art King, gave a report outlining the student grievance form and Baruch's policy in place for reporting student complaints.
This generated a discussion regarding the anonymity in student reporting, as the grievance form does allow for anonymous tipping when reporting professors.
In response to Vice President King's presentation, anthropology professor Carla Bellamy questioned the functionality of the anonymous tipping feature.
"I'd be interested in sitting down and understanding what it is your office thinks is beneficial giving that anonymous option for student complaints," Bellamy said.
The members also discussed "fear of retaliation from students" and "how to better present the form to the student body."
This is the final session of the Faculty Senate for the 2022 year. The next faculty senate will be on Feb. 2.