Students advocate for better prayer accommodations for Muslim students
Muslim students at Baruch College are asking for a larger space for daily prayer that will be accessible during the week and on weekends.
Students report that the room currently designated for meditation and prayer, room 3-225,  is too small to accommodate the demand. As a result, students also pray in room 3-227, which is the club suite room designated for Muslim student organizations.
These organizations, including Muslim Business Association, Muslim Student Association and Women in Islam, have offered their social space for prayer. Students waiting in line for their turn are forced into the hallway, which creates noise distracting to those in prayer and other students.
"We have hundreds of students at Baruch, does our voice not matter?" freshman Uswa Anwar, a CIS major, asked.
According to the Five Pillars of Islam, Muslims must complete five obligatory daily prayers, if they are physically able to. Though an individual is permitted to pray alone, it is better to pray with a group. Additionally, men and women must be separated by a partition during prayer.
Ibrahim Rauf, a sophomore and CIS major, took a survey of 150 Muslim students and shared the results with The Ticker. Only four students believed the meditation room was big enough.
Students expressed that more space was necessary to make sure students can pray on time and make sure they are not missing class to do so.
Anwar said she often stands in line to enter the overcrowded room 3-227, which was designated for women. Anwar reported missing a significant portion of class to ensure she prays at the prescribed time. Her professor has even asked why she is gone for so long.
"I have no other option," Anwar said.
Rauf and several other student leaders met with Vice President of Student Affairs Art King for a Zoom meeting on Dec. 5 to advocate for their needs and work toward a resolution.
"What we spoke about was just the overall situation and we advocated for why we need a larger space," Rauf said. "As a representative, Dean King did hear us out and understood our situation. I am taught to assume the best from everyone even when things don't look good, but I genuinely believe that our requests were taken to heart."
Several male students gathered to pray together outside the Office of Student Life in the second floor lobby starting on Dec. 6.
A student recorded Rauf addressing those praying and posted the video to Instagram on Dec. 8. The video has since amassed over 12,000 views and over 100 comments calling for Baruch to take action.
In the Undergraduate Student Government's Dec. 13 meeting, King gave an update to the Baruch community on the situation.
"I so wish we had the space to give, but we don't right now," King said. "I have not given up though. I brought the issue to cabinet and brought the issue to the people who deal with space. I've also taken the issue to CUNY."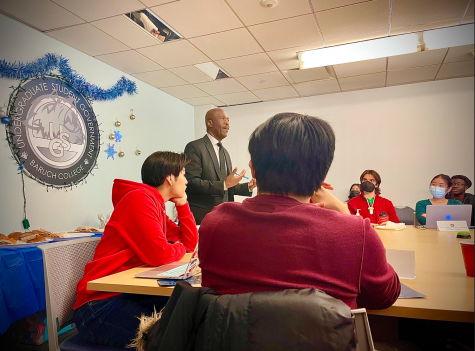 King explained that the Office of Student Affairs only has jurisdiction over room 2-125, room 3125 and the multipurpose room, which is currently being used for COVID-19 testing.
Since being made aware of the issue, King said he has reached out to other institutions to consider possible solutions.
"I'm hearing those concerns and I turned to my colleagues across the country to find out from them what they were doing at their respective schools as it pertains to Muslim students and providing them adequate space," King said. "I also turned to my VP colleagues within CUNY to find out what was happening at our CUNY schools in terms of space. And of course, when you're doing this kind of research, it takes time because you have to wait for people to get back to you."
King said most CUNY schools have a similar setup to Baruch with the exception of Hunter College, which has a multifaith center. He said he is in the process of arranging a visit to Hunter to see what its space is like.
When he finishes his research, King said he will go back to senior administration to present the information and suggestions.
King told The Ticker he is in regular communication with Rauf.
"I reached out to him and said here's where we are: I've asked a number of schools, I'm still waiting for some responses to come back, I'm still talking to administration," he said.
While he made others in administration aware of the situation early on, he said he is working hard to form a comprehensive update.
"When you speak to administration, you've got to have all your facts together. Here's what other schools are doing, here's what we could possibly do, here's what I've heard from the students, here's what our Muslim students are saying, here's some signatures of students who have signed to advocate," he said.
There is a CUNY policy for prayer space under religious accommodations. King distributed the policy in the Dec. 13 USG meeting.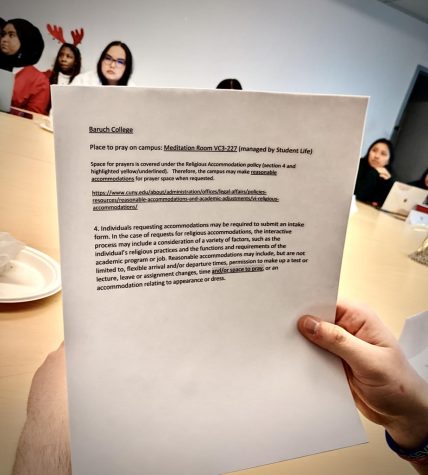 There is also a policy that prayer space must be designated equally across religions, which is why there cannot be a specific room for Muslim students to pray, King explained.
However, he said he is working with administration to explore the potential of swapping the designated meditation room with a larger space.
He said the administration is also considering the possibility of opening 2-125, a space designated for clubs and school programs, to students for prayer use when it is not occupied. This room, which is larger, was used as a temporary space last year.
King added that the prayer space issue is part of larger issues with overcrowding across campus. Baruch currently has over 19,000 students.
Rauf said he spoke to Damali Smith Tolson, the director of the Office of Student Life, about the issue with prayer space last year.
"At the time I really did not have an idea of how bad the small room would have been for us since we had that large space temporarily, so it wasn't spoken about in much detail," Rauf said.
The talks last year did not result in change.
"We came to the conclusion that if I could find a space, then she would provide it, so a few brothers and I went around the campus but could not find a space," Rauf said. "But after what I saw this semester, Baruch needs to make space for us. It's unacceptable."
Rauf and other students said action must be taken to address the issue.
"Since last year we've been meeting with people who will tell us they will help us, but yet we're still here looking for a proper space so the only thing that can show us that our requests were truly taken to heart is when actions and the accommodations we've asked for are being made not constantly negotiated," Hanan Abisse, a junior and finance major, said.
Abisse said that because Muslims are not meditators and their prayers are done together out loud, Muslim students need their own space so that they do not disturb people of other faiths.
"We are tired of accommodating our prayers just because Baruch has failed to designate a Muslim prayer room," Abisse explained.
"It's hard to organize a massive prayer of women and men when there is a lack of space to begin with," Abisse said. "Often women are left out from these unified prayers because we simply don't have enough space to pray Jammah with Muslim men."
Abisse said she prays in the library on Sundays when she has class because the club suite is closed on Sunday.
She believes the religious and social spaces should be separate so there is a proper environment and consistent access to a space for prayer.
USG president Laiba Hussain said USG became aware of the issue on Nov. 15 during the USG meeting. Prior to Rauf's speech in the meeting, she said she was not aware of the issue.
Hussain, USG Executive Vice President Osvaldo Garcia and USS Representative Avroham Malachowski wrote a letter to King to describe the issue and advocate for a solution.
Hussain described the job of USG as to "guide [students] in the right direction on who to reach out to in order to make changes that they need."
King said he recognizes that students want answers immediately, and wants them to know the school hears them.
"This institution does care and this institution does want to do something," he said.
Editor's Note: Kayla Aaron, who contributed to this article, is an alternate CUNY Undergraduate Student Senate representative for Baruch College.