Baruch alumnus becomes first Filipino American elected to NYS Assembly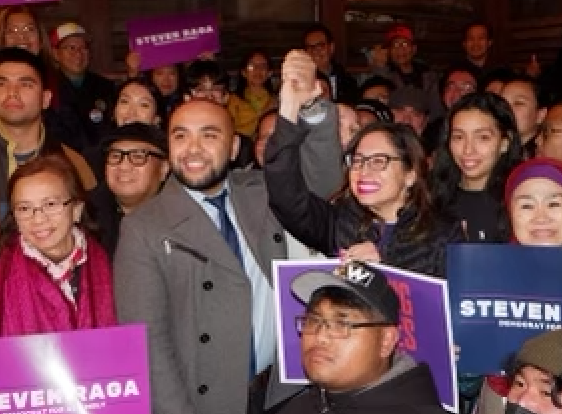 Baruch College alumnus Steven Raga will become the first Filipino American to serve in the New York state Assembly following his election on Nov. 8.
Residents in parts of the Astoria, Elmhurst, Jackson Heights, Maspeth, Middle Village and Woodside neighborhoods elected Raga to represent Assembly District 30. Raga resides in Woodside.
"This neighborhood means a lot to me," Raga told QNS. "I look forward to advocating for everyone here, defending our rights and working in partnerships with our other coworking legislatures to bring more value to all New Yorkers."
Raga received a bachelor's degree in political science from Stony Brook University. He also received a Master in Public Policy from the university.
He earned other masters degrees and professional certificates from The American University in Cairo, Cornell University, Harvard University, New York University, the University of Pennsylvania and the University of the Philippines.
As a National Urban Fellow, Raga earned a Master of Public Administration degree from Baruch in 2015. His capstone project was titled "New York City's Need for Asian American and Pacific Islander Affair Commissions," according to his LinkedIn page.
Raga was one of the nine alumni honored at Baruch's inaugural Changemakers Awards in October. He was a panelist in a virtual panel with the Marxe School of Public and International Affairs on Nov. 22.
Additionally, he has served as a mentor for Baruch's Executives on Campus program since August 2020.
He was part of the inaugural class of the Jay L. Kriegel Fellowship for Public Service Leadership in fall 2020. The program was run by the CUNY Institute for State & Local Governance.
Raga is an advisor for the U.S. Commission on Civil Rights. The bipartisan commission relays information on civil rights-related matters to Congress and the president of the United States.
He also works at Columbia University as a course associate instructor.
Raga was the executive director of the nonprofit group Woodside On The Move until May 2022, when he launched his campaign for the state Assembly. He also worked in leadership positions for AARP and Susan G. Komen for the Cure, a foundation for breast cancer research.
He has participated in Filipino-related organizations, such as the National Federation of Filipino American Association. He founded the Pilipino American Unity for Progress in 2009. He lobbied to rename part of Roosevelt Avenue in Woodside as "Little Manila."
The assembly member elect will start his term on Jan. 1, 2023. He was a former chief of staff for incumbent Brian Barnwell, who started his term in 2017 and did not seek re-election.
Raga tallied 10,972 votes, which makes up 57.84% of the total votes, according to unofficial results from the New York City Board of Elections.
He tweeted that he was "honored and proud" to have the "trust and support" of the voters, in addition to becoming "the first-ever Filipino American to be elected in New York State history."
Queens Borough President Donavan Richards Jr. and CUNY professor Kevin Nadal congratulated Raga.
"I'm very proud of the campaign we ran — being out in the train station stops at 6:00 a.m. and at the bus stops, knocking doors and figuring out hashtags for future posts," Raga said. "This is really a team effort. This is a movement and effort that we are going to continue next year and for years to come."
Raga will not be the only Baruch alumni serving in the New York state Assembly. Yuh-Line Niou, who represents Assembly District 65 in Lower Manhattan, also obtained a Master of Public Administration from Baruch.
Editor's Note: Basmalla Attia, who is The Ticker's advertising director, worked as a voter outreach coordinator for Raga's campaign.