Macaulay dean hosts student discussion at Baruch
Macaulay Honors College Dean Dara Byrne answered questions and learned from student feedback at an event held at Baruch College on Dec. 8.
Since her appointment to the role in June, Byrne has visited each CUNY campus in the Macaulay collective as part of her initiative to implement change that is reflective of students' needs.
"My perspective on what it means to lead a college, particularly a college that is in partnership with other colleges, is to seize the opportunity to focus on student co-creation," Byrne said.
She encouraged students to speak candidly about their experiences. Faculty of the Baruch Honors Program stepped out of the room to ensure students felt comfortable sharing their thoughts.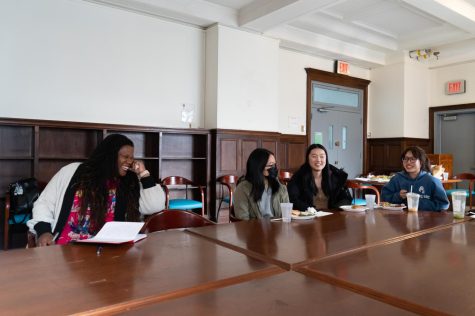 "She's very interested in building community and uplifting the voices of those in the community: staff, faculty and students," Harmony Osei, the interim director of the Baruch Honors program, said after the event. "That's why she has taken the initiative to visit all of the different Macaulay campuses. That's why she's here today —to learn about student perspectives or concerns and to help envision the future."
Byrne said her visit was the first of many ways she will work to extend Macaulay's support to the individual campuses. She prefaced the event by committing to future action.
"Even though I'm listening and going to be taking notes, I'm listening with the intention of using it, which is really, really important," she said. "Institutions can and should change in order to serve the people that they impact."
Students discussed ways to improve the required Macaulay interdisciplinary classes, the difficulty of traveling to the Macaulay building and the need to support students who work.
To address students' suggestions for strengthening the interdisciplinary classes, Byrnes worked with Baruch Macaulay Scholars Council representative Shania Persaud to distribute a "cheat sheet" for students to fill out after the event.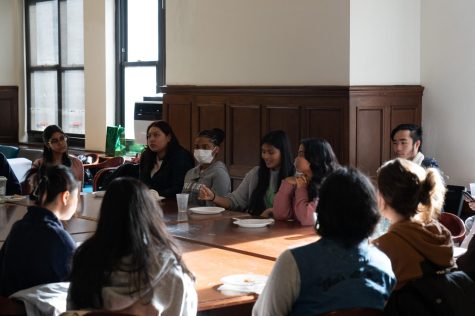 "I think the kinds of things that you're saying allows us to really elevate and recognize some of the awesome things that professors are doing," Byrne said. "I don't know that faculty get to hear that, and I don't know that we always invest in them to do more of it. It would be really helpful to me to know who was knocking it out of the park for you, why and how we can share that around the Honors community."
Byrne also took down suggestions to bring Macaulay resources like the Macaulay Writing Center, the career advisement office and health and wellness office to individual campuses.
To address lack of support for working students, she highlighted one student's experience sitting down with one of his Macaulay class professors to strategize a long-term plan for success.
Byrne said she would explore the potential of replicating the sitdown on a larger scale. She said she is also committed to changing a line in the Macaulay handbook, which tells students to stay in academic standing and to not work while in school.
After talking with students at the event, Byrne toured Baruch. She visited the Welcome Center to meet the staff members who help recruit students for the Honors programs, the SEEK department open house and the "Success Amplified" program.