Willem Kooyker, Baruch alumnus and deanship endower, dies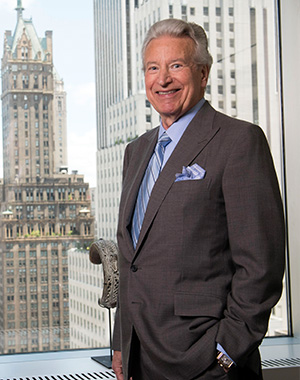 Willem Kooyker, a Baruch College alumnus and deanship endower, died on Nov. 3 at age 80 following a bout with an undisclosed illness.
Kooyker was born on Sept. 22, 1942, in Leeuwarden, a city in the Friesland province of the Netherlands. He served as a young officer in the Royal Netherlands Army and participated in Elfstedentocht, a locally famous ice-skating race.
"It's not merely education that makes you successful," Kooyker said in a profile. "You need to be a self-starter."
He started his trading career in 1964 as an analyst for the Rotterdam-based Internatio-Müller. He worked in the spice trading department, which dealt with products such as cocoa, coffee and sugar. He immigrated to the United States to work for the firm's New York office.
He spent his evenings and summer semesters studying at Baruch, while it was still known as City College's downtown campus. In order to study at the college, Kooyker signed a letter promising he'd become a naturalized citizen after completing his degree, to which he said: "No problem!"
"The U.S. meritocracy very much appealed to me," Kooyker said in a profile.
While his parents could not afford to send all their children to university, Kooyker was able to attend Baruch, which did not charge students tuition at the time.
Kooyker graduated cum laude and received a bachelor's degree in business administration in 1971. He studied international finance and economics at New York University, where he received his master's degree.
"Baruch was my launching pad," Kooyker said in a profile. "Today, the whole atmosphere at Zicklin continues to send out the right signals."
Kooyker worked for International Trading Group Inc. as a managing director. In 1981, he served as the president of Commodities Corp., a think tank based in Princeton, New Jersey. In 1984, he founded Tricon Holding Co., a firm focused on energy and industrial commodities.
Kooyker founded Blenheim Investments Inc. in 1988. It would later become Blenheim Capital Management. The firm was once considered the largest commodities fund in the world, having raised its funds to a peak of $9 billion in 2011.
Blenheim closed in 2018 when Kooyker retired from his trading career. Most of the investors' assets were transferred to Valence Asset Management, a fund led by his son Terence.
The seasoned commodities trader served as a board member of Derivatives Portfolio Management, which he co-founded in 1993. He also served as a founding director of Somerset Valley Bank, a regional bank in New Jersey.
Outside of his professional career, Kooyker served as a board member of MENTOR: The National Mentoring Partnership, starting in 1993. The program educates young people about investing time and money.
He was also the vice president of the Monteforte Foundation, a philanthropic organization he founded with his wife, Judith-Ann Corrente, who serves as its president.
Through the foundation, Kooyker donated $3.5 million to endow a deanship at the Larry Zicklin School of Business. The college named the deanship after him in his honor.
Fenwick Huss became the Willem Kooyker Dean of the Zicklin School in July 2014.
"Wim and his family have been wonderful friends of the school; students and faculty benefit every day from their support," Huss said in a press release. "I personally cherish the time I was able to spend with Wim over the years. He was wise and good."
Kooyker also funded Zicklin's Global Leadership Initiative, a program that prepares undergraduate students in international business, and the support fund for the school's faculty.
Baruch awarded Kooyker and Corrente the William and Newman Medal for Philanthropy in 2018, according to an obituary published in The New York Times.
Kooyker is survived by Corrente, his three children and his seven grandchildren. A memorial service will be held in 2023.