Port Authority's ports director discusses global trade in Weissman Center forum
The Weissman Center for International Business hosted Bethann Rooney — the port director for The Port Authority of New York and New Jersey — to discuss global trade on Nov. 8.
Rooney was previously the keynote speaker at Baruch College's virtual event for New York World Trade Week on May 5. Returning in person to the Newman Conference Center, she was introduced by Weissman Center Executive Director Myung-Soo Lee and welcomed by an in-person crowd of professors and students.
The panel, titled "The Ports of New York and New Jersey: Supporting World Trade," is the Weissman Center's third and final installment of its "Mitsui USA Lunchtime Forum" series for the semester.
While the Port Authority is known as the interstate entity that runs the bus terminals, PATH trains and commercial airports within the New York metropolitan area, it does more than that.
"What we're responsible for is all of the trade and transportation between the two states [New York and New Jersey], between the states and other states, and the states and other countries," Rooney said. "We're interstate, international and national, but we don't do anything that connects New York to New York — that's the MTA."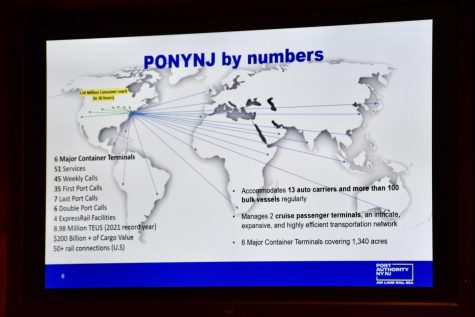 In terms of its volume, in 2021, the Port Authority is the third largest port in the United States and the largest port on the East Coast. It mostly deals with shipping containers, which carry both imports and exports for global trade. While its largest export is scrap metal, it handles other cargo such as automobiles and orange juice concentrate, moreover stores salt for de-icing roads.
While Rooney's employer faces competition from the Richmond Marine Terminal in Virginia and South Carolina Ports Authority, she noted the Port Authority has its success because of how many people it can reach.
She said 136 million people — or a third of the U.S. population — could be reached within 36 hours of cargo arriving at the Port Authority. Cargo owners would turn to the entity for "faster, hopefully cheaper and definitely reliable" services in order to reach the consumer market.
"The benefit of New York and New Jersey is location, location, location because of the population and the consuming power and the spending power of the residents within this area," Rooney said, additionally the Port Authority's proximity to the Panama Canal and Suez Canal is a selling point.
However, when the COVID-19 pandemic shut down factories, it slowed global trade and put stress on the Port Authority's activity.
A full year after pandemic-related restrictions were lifted, the Port Authority is now dealing with "35% more cargo than [it] did in 2019," according to Rooney.
"Ships are completely off schedule," Rooney said. "Around the world today, ships are on schedule 10% of the time. Imagine if the New York City or Boston subway system was on time 10% of the time. There'd be a mutiny on our hands."
Ships that utilized 85% of their capacity are now coming to marine terminals at full capacity, she said.
She added that "we keep hearing and we're experiencing all of these supply chain problems" because the network to keep the supply going is not equally sized, and the "pipeline gets smaller and smaller because of a whole bunch of issues."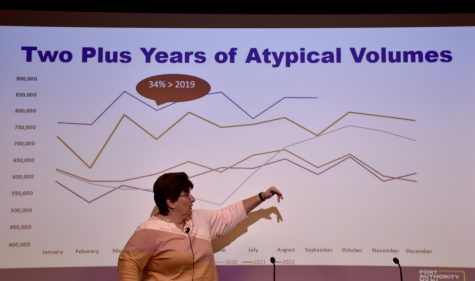 Additionally, while containers are meant to sit on a terminals' docks for at most four days, they would rest between 16 to 20 days on the dock at the height of the pandemic, regardless of fees given to the containers' owners.
"If any of you or your families were trying to get a washer, dryer, refrigerator, stove, microwave or even a toaster, and it was a four-to-six-month wait alone, that brand name appliance company has 1,000 containers sitting in the Port Authority of New York and New Jersey for over 100 days that they didn't know that they had," Rooney said.
Like a "snowball effect," a national shortage of truck drivers, threats of national railroad workers' strike and inflationary pressure led to ports desperately storing cargo wherever possible — including the parking lot of a warehouse.
Rooney said now there is suddenly space available at the terminals due to less demand and cargo entering the United States, signaling a decline in the nation's purchasing power.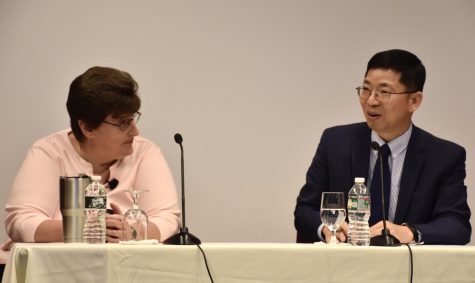 Rooney and Lee opened the last 15 minutes of the event to questions from the audience. Rooney talked about internship and employment opportunities with the Port Authority. She directed students to its job board on LinkedIn and the career section on its website.
On seeking careers, Rooney told students to find an area they're interested in, do research, network and get involved. She added "if you don't like it, you move on."
One thing she could attest to is that "there is no more closer-knit community than the maritime community." In high school, she sought to become an accounting major, but she changed the course of her career after falling in love with sailing. She would enroll in SUNY Maritime College, and the rest was history.
"Take the risks and step out of your comfort zone, and the horizon just opens up for you to things that you might never even have thought about doing," Rooney said.