Baruch and BMCC launch business academy
Baruch College and the Borough of Manhattan Community College launched the BMCC-Baruch College Business Academy — a partnership that will help BMCC associate business students transition to Baruch's Zicklin School of Business.
"I think education is an important component of what I call the infrastructure of opportunity," Baruch President S. David Wu told The Ticker at the signing ceremony for the academy.
"A college degree is as important as ever to actually participate in some of the key economic activities and therefore getting a college degree allows you to access that opportunity that you may not otherwise have," he said. "It's important that we make that pathway as easy to access as possible."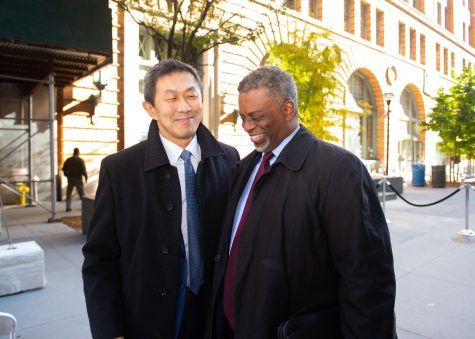 The new program aims to promote equity and diversity in Baruch, New York and the business sector.
"By forming this partnership, we are opening the door to a diverse population and also providing a level of assistance in terms of advising and inclusion of different kinds of activities to make that possible," Wu said.
Wu worked closely with BMCC President Anthony Munroe to help the academy become a reality.
"Our role as presidents of our respective institutions is to advocate on behalf of our students and our faculty and to ensure that the resources are in place to make something like this come to fruition," Munroe said.
The academy provides peer-to-peer mentoring from current Zicklin business students for BMCC students making the transition to Baruch. Students in the academy will also have access to faculty support and cross-campus co-curricular activities such as networking and career events.
Julius Morris, one of the first students in the program, said that the academy has already made a difference for him.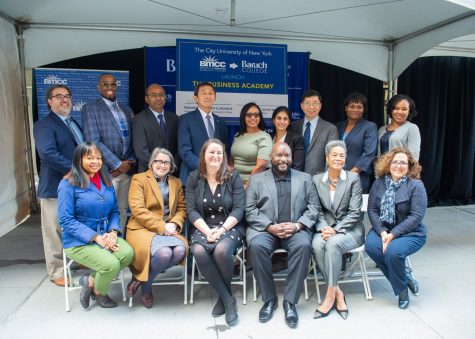 "The mentors will check in with me every week to make sure I'm doing okay," Morris said. "They'll ask me about my process and with school, how am I doing in my classes, and I will communicate with the mentor 'I'm kind of struggling in math, or I'm struggling in English.' They've helped me go to tutoring and after going to tutoring, I was able to change my grades around."
Morris is an older student who said he decided to pursue business after being laid off from his job as a concierge during the pandemic. Since joining the academy, he has developed an idea for his own business: a personal concierge service that will enable families to have their dry cleaning, groceries and deliveries done by a single person. But Morris said working at Morgan Stanley is his backup plan.
"After going to BMCC and being part of this process, I realized I really like accounting and I really like data analytics," Morris said. "I'm going to merge the two together. That way I am marketable with my own business and if I'm employed by someone else, I can also have a career."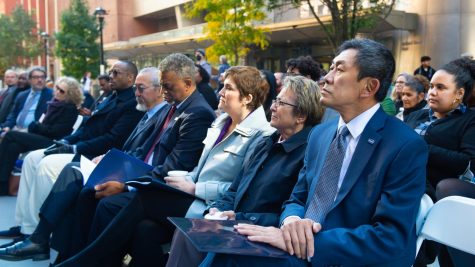 Munroe and Wu both said that they look forward to seeing the academy's longstanding positive effect on their students.
"We know that the more you learn, the more you earn so the value of an education is absolutely tremendous because it has a generational impact," Munroe said.
Assembly Member Deborah Glick, the chair of the Higher Education Committee and a Queens College alumnus, attended the signing for the academy. She said she was also excited to see how the academy fits CUNY's mission to uplift its students.
"There's no question that the pathway for independent living, for financial success and prosperity is through the doors of higher education; it was true for me, it was true for members of my family," Glick said. "We see that CUNY is among the leaders in moving young people from struggling families into the middle class and beyond."
Matthew LePere, the director of External Relations for the Zicklin School of Business, contributed to the development of the academy. He said that faculty at Baruch and BMCC collaborated for four years to make it happen.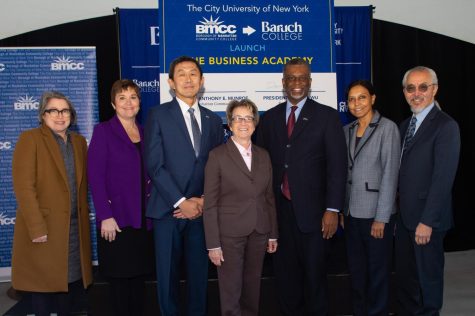 LePere added that the academy is a bridge between the colleges and helps students find their place at Baruch.
"There's a spot for everybody here," LePere said. "It doesn't matter where you come from, it doesn't matter what you look like, it doesn't matter what you believe, you're welcome at Baruch College and this academy is connecting folks at BMCC to Baruch early to show them that."
CUNY Chancellor Félix Matos Rodríguez praised the collaboration between Baruch and BMCC in a press release.
"By working together, our campuses ensure that CUNY continues to be an engine of economic and social mobility by providing our students with clear pathways from community college to four-year colleges to career success," he said.
Although the BMCC-Baruch Business Academy has only just launched, Morris said he hopes other students take advantage of all it has to offer.
"I recommend any student able to do it just because that pressure of coming from BMCC to Baruch was taken off me," Morris said. "I'm able to streamline and really just focus on my education, really focus on my studies and focus on my grades. I can apply for scholarships, get scholarships and just be a success."