Weissman Center forum features top broker and alumnus John Gomes
Baruch College's Weissman Center for International Business hosted its "Mitsui Lunchtime Forum" panel series on Oct. 11 in person for the first time since the pandemic.
Hosted in Baruch's Information and Technology Building, the forum was titled "Real Estate 101: From the Nation's Top Broker." It featured top real estate broker John Gomes, who was featured on television in Bravo's "Million Dollar Listing" and HGTV.
Gomes is the co-founder of the Eklund/Gomes team at Douglas Elliman Real Estate and is highly respected in the luxury real estate industry.
He made more than $20 billion in real estate sales and made more than 85 new development sales.
Gomes works on 10 to 15 projects at a time in five to 10 different states. While he works on the floor, he brings in interior designers.
"I know how people want to live," Gomes said. "I am a trend forecaster."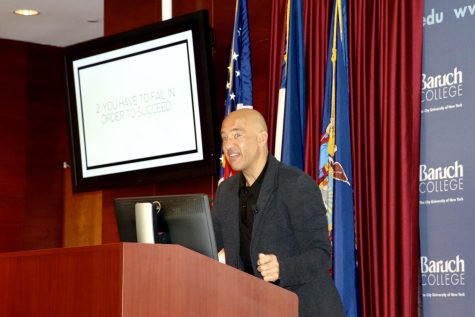 Gomes said that he enjoys bringing interior design to the real estate market because he gets to give creative directions in the projects. He constantly looks out for the next big breakout star and new marketing developments.
Gomes explained how real estate market prices went down by 30% during the pandemic. He took the opportunity to purchase homes for low prices and sell them for greater values later.
Gomes said that the Eklund/Gomes team recently expanded its offices to Florida. He appreciates his work relationship and friendship with Fredrik Eckland, having spent the years working both professionally and personally as a team.
Gomes worked on a project for the Waldorf Astoria in Miami. He is currently part of the move to redefine Miami's skyline by working on Miami's next tallest building, which will be completed in five years.
He is also working on 8899 Beverly Blvd., where Kanye West was touring last week. Other locations include 40 Bleecker St., the Edison Gramercy at 250 E 21st St. and 64 University Pl., which was approved recently.
Gomes said the team was waiting for approval from the New York State attorney general's office in order to start selling.
At the end of the forum, Gomes gave his top 10 tips for success to the students.
"Don't ever let them tell you no," Gomes said. "You have to fail in order to succeed. Don't do it for the money. Be willing to put it all on the line. Always be on the lookout for opportunities. Learn from the best. Check your ego. Know when to grow. Prepare for growing pains. Sky's the limit."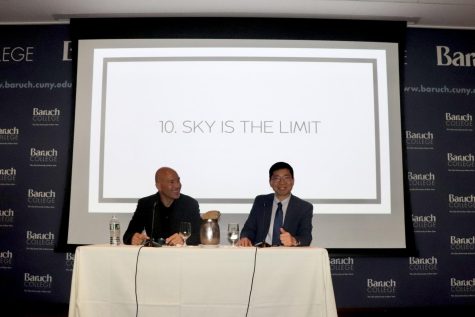 Gomes shared his story about applying to the Masters of Business Administration program at Baruch and his rejection. However, he did not take the "no" as the answer and came to the admissions office to speak with the admissions counselor.
He explained to the counselor he was born with dyslexia and did not perform well on standardized tests, but this does not define who he is and deserves to be accepted.
He was accepted to the program and completed his master's degree from Baruch in 2002.
Baruch President S. David Wu said he loved the forum. He told Gomes that he represents what Baruch is all about.
"His background and he started from really nothing and he was able to chart his own path," Wu said. "I find it inspirational and also in other ways that represent what we are all about and we are providing that opportunity for all of you so this really made my day."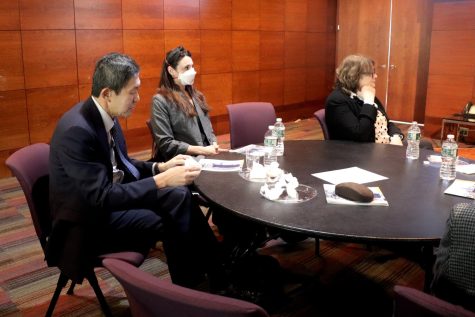 Weissman Center Executive Director Myung-Soo Lee, who also teaches marketing and international business, said he wasn't sure how many people will show up because it is the first in-person forum since the pandemic and the previous forum was virtual.
"This is a very good turnout and a lot of students," Lee said. "Also, right after John's talk, almost 20 students are lining up to get to know him, so this is a great event."