City College holds inaugural personal finance conference
City College's Colin Powell School of Civic and Global Leadership held its inaugural Financial Health Conference at the campus' Great Hall on Sept. 30.
The event aimed to teach attendees how to manage their money and make informed financial decisions through a series of workshops and counseling with financial advisors. This is something that Colin Powell School Dean Andrew Rich said current students and alumni have asked for, especially since close to half of all CUNY students are first-generation college students.
"We pride ourselves at CCNY as being a place that will prepare you for social and economic mobility," Rich said. "That means we're going to have to get you ready for careers that will ensure that you make good money, as well as do good things in the world."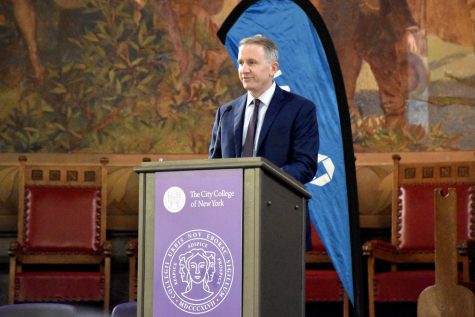 After over a year of planning, the conference finally took place and attracted over 200 students, Colin Powell School Corporate Partnerships Manager Ashif Hassan told The Ticker.
Rich and Hassan were joined at the podium by City College President Vincent Boudreau, who shared his experience buying an apartment while lacking knowledge about interest rates.
The conference was held in partnership with JPMorgan Chase & Co. Nichol King — who started as an undergraduate student at City College but graduated from SUNY Empire State College — is the executive director of community and business development at the bank's local Harlem branch. She led the branch's effort to organize the event with Hassan.
"I didn't grow up understanding, as President Boudreau said, the importance of making sure that I had a smooth financial journey," King said. "I had a lot of pitfalls, so I am on a fierce mission to help communities like Harlem and students like all of you to understand that finances is your friend. I put my team here today, and we're gonna really peel the onion back and get you comfortable about financial health."
The conference offered four different workshops, all facilitated by Chase Harlem branch members. The topics included savings and budgeting, understanding credit, investing and buying homes.
In addition to free t-shirts and tote bags, attendees received journals to plan their financial journeys. The journals were used during the savings and budgeting workshop, which was led by Wendy Velazquez, a Chase community manager for the Lower East Side.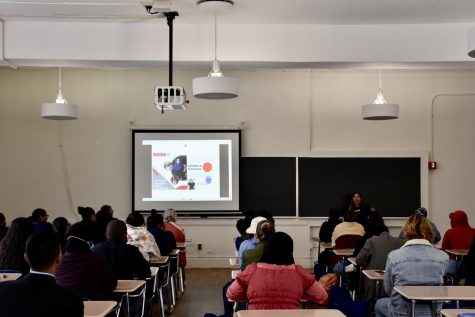 In her workshop, Velazquez had students set financial goals and deadlines for themselves so they'd be compelled to follow through. She explained the importance of goals that are specific, measurable, achievable, relevant and time-bound, also known as "SMART" goals.
She also asked students to think of methods to decrease expenses and share reasons for saving money, including emergencies, housing and retirement.
"There's a lot of programs out there that you guys can explore to help you save that money, because as soon as possible, there's a lot of automated programs that can transfer that money for you," Velazquez said, also noting the importance of researching and reaching out for help. "You will see that you'll be able to save, and you will have that knowledge because of your experience here."
After attending a maximum of two workshops, students were given free lunch and offered the chance to meet with financial advisors to discuss plans.
"Far too many Blacks, Hispanics and Latinos have thought that their options were limited, and I just have two words for you this morning: not true," Jason Patton, who is Chase's Northeast managing director for community and business development, told students. "The reason I know that's not true is because you chose to be here today."