Emma Altman hosts fashion showcase for her eighth NYFW
Neon. Rhinestones. Psychedelic designs. 11 models stood with their backs to the wall, uniformed in grungy two-pieces which spanned all colors of the rainbow.
Emma Altman charged into her eighth season of New York Fashion Week with the barrel of her gun loaded with glitter and creative vision. The aftermath of the battle scene, print against print, stripes against stripes, was on display in SoHo on Sept. 10.
Altman partnered with Doors., an experiential fashion platform that launched amid the COVID-19 pandemic, to produce her NYFW showcase at its pop-up location on 426 W Broadway.
"Grungecation," her newest collection, is inspired by the 90's grunge aesthetic, infused with a Y2K twist.
"It's like a grunge resort wear collection. You could be wearing it on vacation while still maintaining that alternative look," Altman told The Ticker in an interview.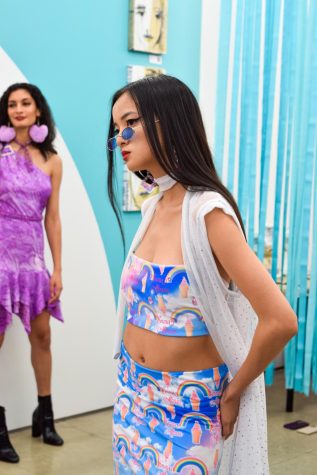 Altman is a fashion designer based in New York City. She's the brains behind Emma Altman Apparel, a brand she founded shortly after graduating from the Rhode Island School of Design.
Her work has since appeared in publications such as Vogue, both the Italian and British editions, Harper's Bazaar, People Magazine and Gisele Magazine.
The company's online boutique describes the brand's primary clientele as "women who like to stand out in a crowd and get noticed."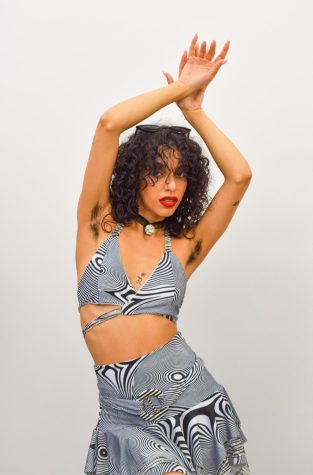 Altman describes utilizing clothing as a channel of empowerment. The boldness of her newest line is reflected in the boldness of the wearer's spirit.
"I get inspired by music. I always find different generations that I draw inspiration from," she said. "I'm always trying to zone in on my own thoughts and not look to see what everyone else is doing."
Her latest collection consisted of 11 starkly different designs, ranging from a turquoise zebra print to midi skirt splattered with ice cream and rainbow graphics to a glittery, fairy-like lilac dress.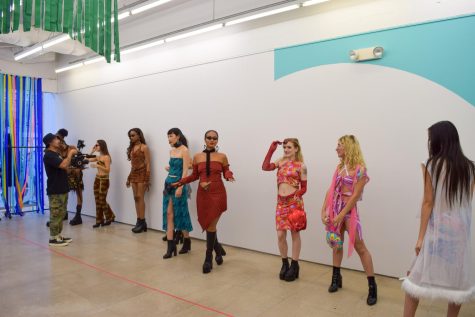 "I really like the turquoise look that I did. I really pushed myself with the silhouette and trying something new. But all of the looks I really love. I was playing with a lot of patterns and prints," Altman said when asked which look is her favorite.
Altman creates her own digital prints, which were incorporated into a few of the pieces in "Grungecation." The statement earrings hanging from each model's ears were all resin casted and hand-mixed.
All of Altman's products are vegan, cruelty-free and ethically assembled in the U.S. Any shoes and sunglasses pictured are not Altman's designs.