Burmese Eats: Baruch student opens second restaurant in the Lower East Side
At the forefront of the "Burmese boom" that is blessing New York City with the flavors of Southeast Asia, Baruch College student Yun Yati Naing is proud to be operating two restaurants serving food from her home country.
Naing initially opened Yun Cafe, a Burmese takeout stall named after her, in an underground entrance to the Jackson Heights-Roosevelt Avenue/74th Street station. Her business expanded on April 24 with the opening of Little Myanmar, an above-ground restaurant in the Lower East Side.
Little Myanmar is run by head chefs Thidar Kyaw and Tin Ko Naing, who also happen to be the student's parents. Her role is a little less defined.
As business manager for Little Myanmar, Naing has many responsibilities. These include running the Instagram page for Yun Cafe and Little Myanmar, securing news features like the profile VICE Munchies ran on the family's cafe, taking orders and, occasionally, cooking up some dishes herself — all while being a full-time college student.
Born in Myanmar and raised in Singapore before coming to the United States, Naing has an upbringing that is just as unique as her restaurant.
"Most people don't know where my country is on the map, and they most likely have never tried authentic Burmese food either," Naing told The Ticker.  "To me, this business represents my roots, an opportunity to share my culture and bring mohinga to NYC!"
Mohinga, a rich seafood soup made with rice noodles and vegetables, is the de facto national dish of Myanmar. Little Myanmar's iteration uses rohu fish and adds shallots, lotus roots, cilantro, bean tempura and a boiled egg to create a medley of flavors.
Naing also caters to lovers of spice, with the option to add chili powder and lime to any dish.
"I personally love my food spicy," Naing said. "With Burmese cuisine, there are many vegetables included that have cooling sensations, so when you add spice to the dish, they complement each other so well and take the food to another level."
Another standout star on the menu is the fermented tea leaf salad, or lahpet thoke. Adding shrimp, fermented shrimp paste, chickpea powder, onions and chilis to a salad makes a highly flavorful summer dish that will cool patrons down as much as it will fill them up. Since Myanmar's climate is hot year-round, it makes sense why this salad is one of the nation's most popular.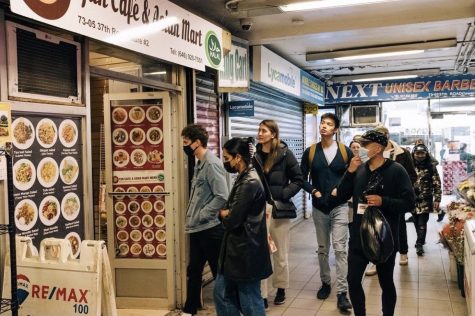 Naing's parents owned a restaurant and tea shop in Myanmar, so they had experience when Yun Cafe opened. They were, however, new to the pandemic. There were many restrictions still in place, and most people were still hesitant to take the train.
"That didn't work in our favor, since our shop was in a subway station," she said with laughter. "Eventually, people started using the train again. The funny thing is, we thought our main clientele would be the rushed commuters, but no, it's people that come specifically for us to try our Burmese food!"
Many restaurant owners try to find their niche in usually over-saturated food markets, but Naing and her family have the extraordinary edge of belonging to an underrepresented culture in New York City.
"At first, I had doubts," she said. "No one knows Burmese food, but then I realized, that's our greatest strength. People love to try new things, and once they taste the food and experience our hospitality, they go from never having tried it to making it a staple in their diet."
With all the hard work she has put in, Naing is poised for great success. She is currently a senior at Baruch and is expected to graduate this spring with a bachelor's degree in economics.
Her passion for her culture is evident in all the things she's done. And the best part? She said there's a discount for Baruch students.