Financial Women's Association mentoring program celebrates 20 years at Baruch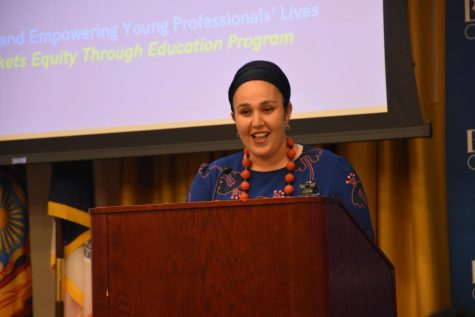 Baruch College's mentoring program with the Financial Women's Association celebrated its 20th anniversary with an in-person evening event at the Newman Vertical Campus on June 16.
The celebration was attended by incoming, current and former mentors and mentees. Program Director Olga Barskaya, a former mentee, said it has been "an absolute dream" to return to the program and work with young, ambitious women like herself.
The mentoring program was founded by then-FWA president Betsy Werley, who is now the program's co-lead, and former program director Alyce Mayo. With help from then-head librarian Kristin McDonough as the founding co-lead, the program was "brought to life," kicking off its first event on April 12, 2002.
"Twenty years is a milestone, and this program stands apart not only because of its length but because of its breadth," Mayo said. "It stands apart because it's like family, and that for this program, of course, are the truly wonderful, dedicated women. I think that's who I owe so much."
Since its beginning, the program has graduated over 300 mentees, including a record 49 mentees between the 2022 and 2023 classes. Eight mentees have returned as mentors, according to Barskaya.
Ellen Cahill, who served as co-lead before Werley, talked about her early mentoring days and advised mentees to become a mentor as soon as possible.
"Mentor the person who you're going to work with, who's just lost," Cahill said. "Give them the two minutes, give them the five minutes. Explain to them how to do work a little bit easier because most of you know how to do that, and then for you, just like me, mentoring will become one of the most outstanding gifts that your career has ever given you."
A former mentee and classmate of Barskaya, Noreen Hernandez, joked about not consistently checking in but said she always found a way to come back to Cahill.
"I left the program, but we find our ways to come back and connect with each other, and that's one thing that I would encourage you all to, you know, never shy away," Hernandez said. "Things can get away from you, but the connection you build with your mentor will always be there. Never be afraid to reach out at all for anything."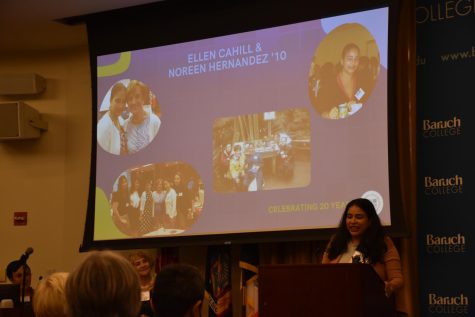 Also in attendance were current FWA President Hermina Batson, Baruch President S. David Wu and eight mentees from the first four years of the program. BMO Capital Markets, an investor in the mentoring program, was represented by Diversity, Equity and Inclusion Council co-lead Lynn Maki.
The celebration ended by welcoming the program's incoming mentees. The class of 2024 includes Jessica Angamarca, Emily Chen, Nora Elbagory, Sadia Esha, Jiayi Gao, Sakshi Gondkar, Erin Ho Lee, Mariia   Holubova, Tina Jiang, Julia Kaneko, Eliana Li, Julie Li, Samantha Liu, Kaylee Maldonado, Giovanna Mondesir, Bushra Mujeeb, Bianca Pigon, Emma Sassouni, Riya Sawant, Charlotte Yee, Elena Yu Xu and Nina Zheng.
Afterward, attendees had the opportunity to network with refreshments.
The celebration was the program's first in-person event since before the coronavirus pandemic. The occasion allowed mentees who joined the program remotely to physically meet their mentors for the first time, as well as alumnae to reconnect with their former mentors.
"So happy to reunite with my mentees, fellow mentors and friends from the Financial Women's Association and Baruch College community in person again after two and a half years," Christine Li-Auyeung, who has mentored for over 10 years, wrote on a LinkedIn post. "The year-long planning work with the anniversary celebration committee was all worth it."
Looking forward to another successful 20 years, the program hopes its mentees go on to break barriers in the financial services industry. Mentorship applicants must be female students who are majoring in business or accounting, have a minimum GPA of 3.5 and show involvement in student activities.
Editor's Note: Sakshi Gondkar, who is mentioned in the article, is a web assistant for The Ticker.