Baruch student named as Jeannette K. Watson fellow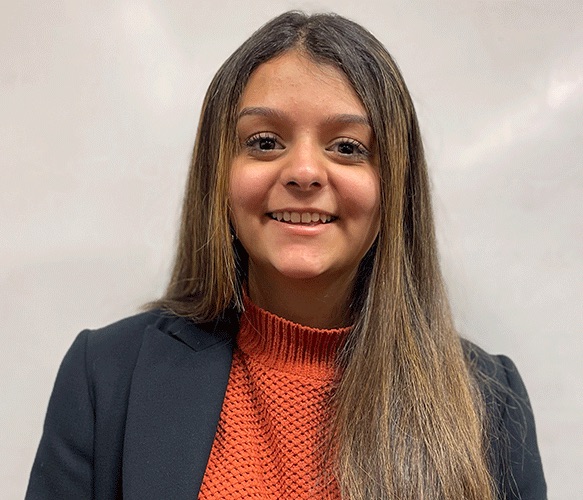 Baruch College freshman Marina Nasef was selected on May 4 for the 2022 Jeannette K. Watson Fellowship, a three-summer paid internship in both the public and private sectors.
Candidates are picked for their strong academic record, leadership potential and desire to explore cultures and new professional fields. Nasef, an operations management major, is considering interning for the Office of the New York City Public Advocate, American Documentary and Resilient Cities Catalyst.
"I was in complete awe and filled with excitement winning this Fellowship," Nasef said. "I can't wait to experience the many opportunities, personal growth, and discoveries that are soon to come."
Nasef learned about the Jeannette K. Watson Fellowship through a fall 2021 orientation about public service fellowships hosted by Valeria Hymas, deputy director of the Office of National and Prestigious Fellowships Advising.
"The application process was great—it gave me the chance to sit down and take the time to reflect on my personal growth and career interests," Nasef said. "The hardest part of the application process was choosing which internship would I want to pursue—there are so many great options."
Nasef cited her family as the primary motivator for pursuing the fellowship.
"My humble father, driven mother, and hardworking sisters have motivated and encouraged me to take on leadership roles and projects that are much bigger than myself," Nasef said. "I account any of my success to them."
Nasef, who is a first-generation Egyptian-American, said the lack of representation of her community and available resources to them also contributed to her decision to apply for the fellowship.
"I have gradually seen myself become a helping hand, a voice for those silenced, and a person who held the courage to rewrite their own story," she said. "I knew that applying for Jeannette K Watson with the internships, cultural events, seminars, and cohort available to me would enable me to continue my work of amplifying voices of the underserved and supporting them in their pursuit of justice."
Previously, she served as a student representative for 1.1 million New York City Department of Education students on the Panel for Educational Policy. It addressed mental health issues, the need for greater transparency about policies that impact students, educational instruction, racism and post-secondary readiness.
Additionally, Nasef was an executive producer for the film, "It's Time: Ending the Stigma on
Mental Health," in partnership with the Mayor's Office of Community Mental Health and New York City School Mental Health Department.
Nasef was among 15 students selected for the Jeannette K. Watson Fellowship.
Joining her are Nishanth Araveti, Jiada Valenza and Jada Richardson of Hunter College; Deborah Cobourne, Andrew Williams, Yori Xhumari and Katherine Steele of The City College of New York; Katherine Grivkov and Lauren Sulaiman of John Jay College of Criminal Justice; Sharnom Chowdhury of Queens College and Katherine Yenna of College of Staten Island.
The fellows from non-CUNY colleges were Benjamin Broussard of St. John's University, Kayla Kemp of Marymount Manhattan College and Maya Radwan of LIU Brooklyn.