Entrepreneurship center unveils winning design for inaugural mural competition
The Lawrence N. Field Center for Entrepreneurship unveiled the winning design for its inaugural "Essence of Entrepreneurship" mural art competition to students and staff on May 10, as part of Baruch College's Creative Inquiry Week celebration.
The Field Center accepted submissions from all students, regardless of their major and academic year, from Feb. 15 to March 21. Students were posed with the challenge of creating an original artwork that promoted an entrepreneurial mindset to inspire visitors of the Field Center.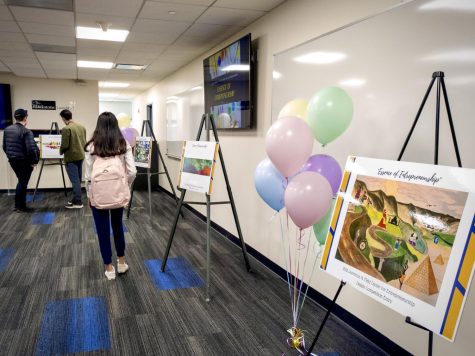 The winning entry would be displayed on a large wall inside the center. The winning student would receive a prize of $1,000, and the amount would double if the submission came from a team of two students.
Marlene Leekang, the executive director of the Field Center, was surprised by the positive and robust response to the competition. Running this initiative where students share their creative ideas "makes it even sweeter."
"They each have such a different perspective from different individuals, about what they thought about entrepreneurship," Leekang said about the entrants. "That was the goal, right? To understand the spirit of entrepreneurship from our student perspective, because we are a student center, supporting their entrepreneurial activities and their endeavors."
A gallery featuring competition submissions opened to the public starting at 12:30 p.m. Attendees walked around the Field Center, to get a closer look at all nine submissions and enjoyed refreshments before the winning entry was unveiled at 1:30 p.m.
One of the entries came from a team that consisted of juniors Tiffany Wu and Calvin Zhang. Together, the artists were selected as the winners on April 1, but the announcement of their triumph was withheld until the grand unveiling.
Their work displays the message, "We can change the world."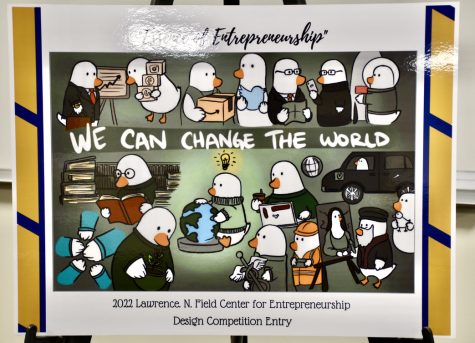 Below, ducks are illustrated in a university setting — complete with a duck with a cup of coffee and a laptop in a lecture hall — next to ducks in medical professions, a duck dressed as a construction worker and a duck that resembles Leonardo da Vinci.
Above, ducks appear in a professional business setting, with one that resembles the late cofounder of Apple Inc., Steve Jobs.
The two aimed to personify the different identities in the business world while also representing aspects needed to help it prosper, including teamwork, knowledge and creativity.
"Entrepreneurs have a vision to change the world," Wu told The Ticker. "Because they had a world that they wanted to create, they were willing to endure the difficult process of convincing the world. I wanted to share my art with the world through my ducks, and empower people to be themselves."
The duck-themed design was inspired by Wu's own Duckingnice clothing brand. Staying true to the brand and her identity, Wu wanted to include the ducks, regardless of the result of the competition.
"I'm a very creative person, but I have trouble judging my own work, and often like to solicit opinions," Wu said. "Calvin is usually my go-to person. He keeps me grounded, focused and pushes me to do better. I can't imagine creating any artwork or this mural without him."
Zhang works with Wu on her brand as a design consultant. Although initially hesitant about including the ducks in the design, he knew it had potential.
"When we start from an idea and build a sturdy foundation, then I know Tiff can add the details that make our art shine," Zhang told The Ticker. "Through the collaborations of our strengths, we make up for our weaknesses, and that is how we produce our best work."
The two artists' mural will be displayed at the Field Center for an entire year, until a new design is selected in next year's competition. Leekang hopes that more students get involved in future competitions and show their creativity.
"Don't feel limited with your design," Leekang advised future entrants. "You can be completely out-of-the-box and tell your story of what entrepreneurship means to you, and let that resonate in your design."
As for the winning team, they advise students to take advantage of the competition to share their own meaningful stories or messages.
"This mural is going to be there for a year, and you have the opportunity to inspire every person who sees it," Wu said. "Also, I may or may not be joking, but definitely incorporating ducks in it gives you bonus points in my book. Be proud of what you create."