International Worker's Day Rally takes place at Union Square
Many people gather at 14th Street–Union Square in New York City on May 1, which is also known as "May Day" or "International Workers' Day." Demonstrators from diverse backgrounds gathered to celebrate the working-class contributions made in the city, while also calling for employers like Amazon.com Inc., and Starbucks Corp., to supply better labor rights.
International Worker's Day is a holiday used to unite union and non-union workers alike across the nation to bring attention to workers' rights.
On this past May Day, labor activists called on Congress to pass permanent protections for working class people.
The Union Square rally was called by a committee that included many activists and organizers from different coalitions, according to the group Workers Assembly Against Racism. Included in the committee was the Amazon Labor Union, which recently made headlines for successfully creating the first Amazon union in the United States.
The committee also featured members from different organizations including Coalition of Black Trade Unionists NYC, Coalition of Labor Union Women and La Peña del Bronx.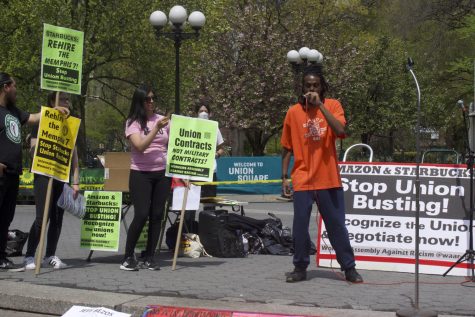 Attendees at the rally also included Beto Sanchez and Lakota McGlawn, two Memphis seven Starbucks workers from Tennessee. The location made headlines after an effort to create a union led to firing of several Memphis-area employees.
Members of the ALU were also in attendance, making a strong stance about the importance of worker's rights while also calling out Amazon. One of them was Karen Ponce, who delivered a speech at the rally.
"We are here in solidarity with everyone that's here," Karen Ponce told The Ticker.
Ponce also talked about how much the rally made her feel, seeing people from different working industries come together.
"I think it's beautiful," Ponce said. "It makes me feel like we're all family because we all may not know them, but I feel like I've been knowing them for a long time at the same time."
Some New York City workers who attended the rally used the opportunity to call for worker rights for disabled people. An attendee named Jordan, who asked that her last name be kept classified in fear of consequences, went to the rally to call for labor protection for people in the arts and culture sector.
"I don't qualify for overtime exemption," Jordan told The Ticker.
The rally drew international allies from other countries like Germany. A delegate speaker from the International Committee of the Free Workers Union spoke, announcing a stance of solidarity with the demonstrators there and calling for more unions in Amazon facilities in Europe.
"I'm here to deliver a solidarity address from across the Atlantic," the delegate speaker, who introduced himself as Knox, said. "If it is possible to unionize at Staten Island, we can do it everywhere in the U.S. and all over Europe, against transnational corporations like Amazon, our answer has to be international solidarity."
Public activism at Union Square is not a foreign concept. A Fast Company article called Union Square one of New York's most important sites in American labor history. The area was a space where working class New Yorkers, some of them immigrants from other countries, gathered to demand the same rights as American citizens.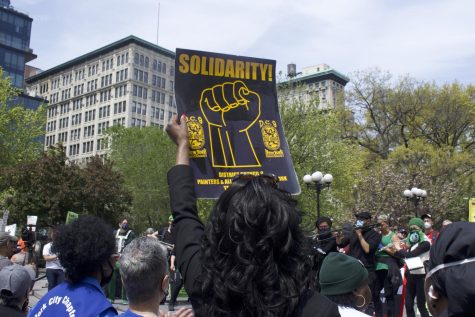 Union Square is also the same location where the very first Labor Day Parade took place in 1882, as well as where the city's advancing industrial working class highlighted their political prowess.
New York City public advocate Jumanne Williams called for this year's May Day to be a day of protection for gig workers on a state government level. He also said that society sometimes looks away at how "exploitive" some working environments can be.
"Sometimes, we'll turn a blind eye to exploitative working conditions," Williams told the New York Daily News.
Williams continued, addressing the difficulties faced by contract employees.
"Right now, you have to choose between working and getting well or helping your family, and you also have to choose between staying home and making people around you sick," he said. "A large portion of the population are dealing with untenable decisions."
The rally later turned into a march through Manhattan's west side. As the march began, labor union activists stopped in front of a Whole Foods Market Inc. location across the street from Union Square and yelled a series of chants, declaring themselves as in solidarity with the grocery store workers.
Officers from the New York Police Department were present during the rally part and the march part but did not engage with the marchers.