Inaugural 'CLASH' competition holds final round, Baruch student wins big
The Baruch College-based CUNY Startups program held the third and final round of its inaugural "CLASH" business pitch competition on April 29. After spending three months refining their ideas, two students from Baruch made it to the finals, with one of them ultimately becoming the winner.
The 'CLASH' gave students within the CUNY system a chance to come up with an idea to address a problem in the world and compete for cash prizes, which add up to $35,000.
"'CLASH' is not about scale," CUNY Startups Executive Director Remy Arteaga said. "We're looking at good ideas where the students are serious about the idea, where the idea is feasible."
In the first round, students submitted their pitch in a 90-second video and a form online. Twentyone students advanced to the second round, working with mentors and elaborating on their ideas more to judges.
Seven students advanced to the final round. They presented their idea in five minutes each in front of a panel of judges and a small but intimate audience at Baruch's Lawrence N. Field Center for Entrepreneurship.
The finalists included Dvir Avnon-Klein from Queens College, Liliana Cepeda from Baruch, Aissata Diop from Bronx Community College, Atina Karim from the CUNY School of Professional Studies, Carlene Nelson from Borough of Manhattan Community College, Sheyla Perez from Queens and Selina Rosales-Spiesman from Baruch.
The panel of judges included Carley Graham Garcia, the head of community affairs for Amazon.com Inc. in New York; Budd Goldman, a Baruch alumnus and Final Word Investment LLC managing member; Jannette La Sota, the founder of The Fitness Detective; Rebecca Short, vice president for MUFG Americas Holdings Corp. and Gail Yancosek, the executive director for CUNY-TV.
Rosales-Spiesman pitched "adVANture," an electric-powered van rental service that hopes to provide an environmentally-friendly travel alternative. Intending to base her business in Long Island City, Queens, she would use the money to do further market research.
"With adVANture, you and a loved one can go explore our country while leaving less of a physical imprint on our planet," Rosales-Spiesman said in her pitch. "Our plan will have just about everything you need to have the time of your life and travel in comfort."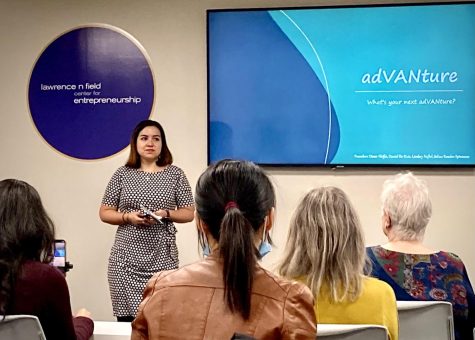 Cepeda pitched "Conectados," an online platform in which people could check out businesses, organizations, events and community resources, with the goal of "amplifying Latinos and connecting them to a larger scale."
"It's such a nice feeling when you're able to walk in somewhere and you immediately feel represented and connected," Cepeda said in response to a judge's question. "Especially within the Latino community, there have been people who move here from other places, who don't speak English and things like that — a lot of it is word of mouth."
Some finalists presented pitches addressing issues in their native countries. A native of Mali, Diop wanted to address her country's malaria epidemic with her idea "SoSo," a protective clothing brand made with cotton and natural oils. She would base her business in Mali, using local and inexpensive resources to help the domestic economy.
"Malaria unfortunately is the primary cause of mortality and morbidity in Mali, and pregnant women are also very vulnerable," Diop said in her pitch, also noting the country's hot, subtropical weather. "Because of global warming, we are getting even more mosquitoes, but my idea will provide a solution."
As a first-generation college student who understood the struggle of making a career choice, Perez pitched "CareerExplorer." She wants to build a website that would provide students with career insights and work opportunities, including a virtual simulation of a day in the life of someone with a particular career. The Queens Public Library already expressed interest in partnering with Perez on her idea.
Other pitches included Avnon-Klein's "Maskerade," a face mask-inspired air filter that would address air pollution concerns; Karim's "RightHome," a realty app that would offer insights on properties and landlords, and Nelson's "Outdoor Unicorn," a customizable 3-D-printed bicycle helmet that targets African American and Caribbean communities.
Notably, Avnon-Klein wanted to ensure that the audience takes away from his pitch that face masks, which became essential during the COVID-19 pandemic, do more than keep people protected from viruses.
"You really don't realize that we have here an exquisite piece of filtration technology," he said. "If you could just use it and apply it to the pressing issue that we have today into air pollution, we'll be able to solve indoor air pollution."
After nearly 90 minutes of pitches, the competition concluded with Cepeda winning first place and $15,000, Perez winning second place and $10,000 and Diop winning third place and $5,000. The other four finalists went home with $1,250.
The finalists expressed gratitude for their chance to present their ideas and hope to do wonderful things from here on.
"This is huge because I thought about this idea literally 10 years ago, and it's amazing to see my idea come true," Diop said.