CUNYAC title fitting end to volleyball coach's time at Baruch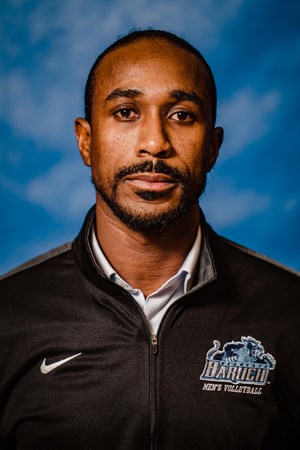 After five seasons coaching Baruch College's women's volleyball team and six seasons coaching its men's volleyball team, Coach Kevin Edwards ended his time at Baruch with back-to-back CUNYAC Titles and NCAA Tournament appearances. He has stepped back from coaching at Baruch to continue working on his beach volleyball program.
"I decided to put some focus into continuing to build a beach volleyball program in New York City so I decided to take a step away from the indoor game for a little while to do that," Edwards said. "It's sad, especially when you are having success."
Edwards, a former Trinidad and Tobago international player, previously led the Baruch women's team to their first-ever postseason win in team history at the 2019 ECAC Division III Championship first round. In 2019, he led the men's team to the CUNYAC Championship and its first appearance in the NCAA Tournament since 2015.
The men's team finished this season 16-13 and 11-1 in the CUNYAC, winning the CUNYAC title.
Edwards said his decision to leave his coaching position at Baruch was difficult, but that he felt compelled to follow his lifelong passion.
"Everybody makes choices in life, sometimes tough ones, but this opportunity that I have I really couldn't turn down," he said. "Especially to do something that's happening in New York City for the first time, so I'm part of that and I definitely want to continue to be a backbone of that project and grow beach volleyball in New York City."
Throughout his time at Baruch, Edwards brought a competitive mindset to the teams he coached.
"It was tough. I think when I came in, they were coming off maybe like a six, seven-year championship run and they had lost that final year before I took over so I knew my work was cut out for me because it's a winning program number one, and they just lost," Edwards said. "My responsibility was to say 'hey, get back this championship mentality right away.'"
Baruch Athletic Director Heather MacCulloch said that in the search for a new coach, the athletic department sought a candidate that would look to propel the volleyball teams to new levels of success.
"Not only just being satisfied with winning the CUNYAC championship, we want to try to continue to build the program on the foundation that Kevin has laid for us," MacCulloch said.
MacCulloch emphasized the importance of a passionate coach and lauded Edwards' ability to inspire that same passion in his athletes.
"If you can get experience and passion, doing it for the love of the sport, it's usually a good recipe and a good fit for us," she said.
Edwards said that as a coach, he believes there are four essential ingredients to a winning team.
"We talk about effort, being aggressive, mentality, togetherness," he said. "We have those four cues that we talk about all day every day and if we check those four boxes off, we put ourselves in a really good position to win."
Edwards also believes respect for his athletes and his successful communication with them is a vital component of his coaching style, and hopes the next coach will carry it on.
"My advice to the coach would be to be open because in coaching it's not like a dictatorship," Edwards said. "I think coaching the players is the most important piece of the puzzle. We have the athletic department in the school, we have coaches, assistant coaches, we have medical staff, all these things, but I think the players are the most critical piece of that puzzle because without them we don't have anything to do, we have nobody to coach."
While he said he was sad to leave Baruch, Edwards is excited about seizing the opportunity to follow his dream. He advised his athletes to do the same.
"Whatever you're doing, go at it, give it your all," he said. "Give it your all because you don't want to wake up tomorrow regretting what you did not do yesterday. I think you wake up today, just set your goals, go get them. And the good thing about goals is that if you don't get it today, you have tomorrow to try it again, but if you don't try it you don't have a chance to achieve."
After a successful six seasons coaching at Baruch, Edwards said he believes the teams are well positioned for the future.
"It's a great group of guys, great group of girls, a great program in particular," he said. "I believe with the work I've done over the last four or five years, I think our program is in a really good position going forward and they have my support. They can reach out to me anytime if they need anything because I'm not going to another institution, I'm not going against Baruch, just building a beach volleyball program. My heart will still be here.