'My Year of Rest and Relaxation' takes honest look at mental health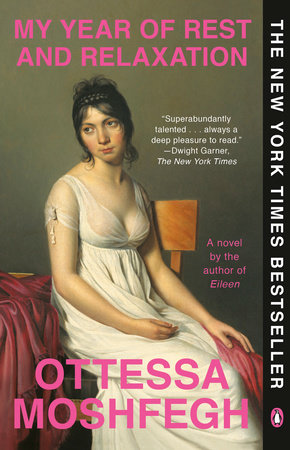 "My Year of Rest and Relaxation" by Ottessa Moshfegh published in 2019, follows an unnamed 20-something-year-old protagonist in New York City struggling with depression while trying to find her own identity.
She is an art gallery assistant who attended Columbia University, but has since graduated with a degree in art history.
Despite her education, career, luxury apartment and looks, she finds herself done with life and extremely alone. She is an orphan; both of her parents died during her time in college. The protagonist uses her inheritance to fund her lifestyle.
"Our narrator should be happy, shouldn't she?,"  a blurb about the book from Penguin Random House noted. "But there is a dark and vacuous hole in her heart, and it isn't just the loss of her parents, or the way her Wall Street boyfriend treats her, or her sadomasochistic relationship with her best friend, Reva. It's the year 2000 in a city aglitter with wealth and possibility; what could be so terribly wrong?"
After quitting her job at the art gallery, she embarks on a journey of a year's worth of rest, which entails never leaving her apartment and continuously being under the influence of a variety of sleep medications.
Her closest friend, Reva, who the protagonist dislikes, idolizes her and attempts to convince the main character to give up on her death wish.
Her dislike of Reva is very powerful in depicting how self-hatred can ruin relationships, no matter how close or important a person may be.
"This is a very accurate depiction of depression—you feel the main character's monotony, the lethargy, the pointlessness of it all," one reviewer wrote on Goodreads. "As someone who copes with depression by sleeping an excessive amount, I understood where she was coming from, and picked up this book out of curiosity to see what happens when someone submits to that nihilistic desire to not associate with the world anymore."
As the main character constantly drifts in and out of daily life in an attempt to simulate death, she is painted as insufferable and unlikable.
The novel displays a raw and gruesome look into the reality of mental illness and the lengths one could go to soothe their pain.
The protagonist believed a hibernation would be the only way to rid herself of all her negative emotions, so she went about this plan dangerously, not caring that it may cost her her life.
While the protagonist constantly hurts herself and others, she is consumed by her own thoughts and desire to constantly be asleep, leading to her frequent dissociations throughout the plot.
The graphic language, detailed descriptions and sensitive topics strung throughout are clearly stylistically used to focus on the idea that the mind can be detrimental to itself and drive anyone insane.
Moshfegh writes with shock value in mind. She usually highlights an unlikable, or "socially unacceptable," female character.
In "My Year of Rest and Relaxation," Moshfegh's  writing style is clearly translated and allows the reader to  become invested in this odd and somewhat uncomfortable story line.
The originality of her writing is admirable and unique. She is unafraid to break the stereotype of what a woman should be like or how she should feel.