Celebrating Ticker Alumni: Paola Marocchi
The Ticker, founded in 1932, is the student-run newspaper of City College's Downtown Campus, with 2022 being the newspaper's 90th anniversary. To honor and celebrate the legacy of The Ticker and the members who have kept it running, the News section will be publishing profiles of former Ticker members throughout the years.
***
Paola Marocchi is a Baruch College and Ticker alumna who now works as a pastry chef for the Creative Culinary Management Company.
In her role as a pastry chef, Marocchi creates elaborate desserts.
"There's a centralized kitchen where I do the pastries for all the different venues," Marocchi said. "I work with the chefs at each venue to make the dessert programs the best that they can be and I work a little bit with the marketing team to come up with initiatives that are dessert-related."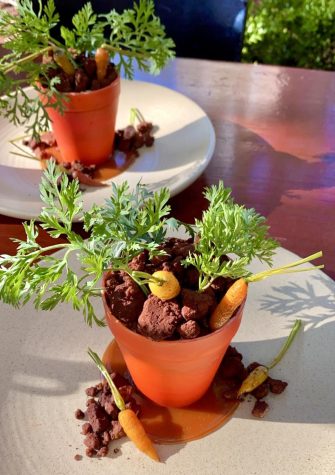 Marocchi's current occupation is a notable divergence from her Baruch experience as an accounting major and photographer for The Ticker.
However, she said those experiences play a role in her current career.
"To be able to do photography, you know, it's the basis of now I constantly take pictures of all my desserts," she said. "I love it. It's a tool to market yourself also. I think it is definitely something that … you don't think about it, but it's the skills that you use all your life."
She also said that the business skills she developed at Baruch have aided her.
"Everything I learned in college as an accountant, you know, I've been able to apply to the financial responsibility and the business aspect of it," Marocchi said. "And then at the same time, pastry allows me to be creative."
The creativity she enjoys in pastry is what drew her to the art of photography. While studying accounting at Baruch, Marocchi said that taking pictures and occasionally writing articles for The Ticker was an important reprieve.
"It was the creative aspect of it that I liked because I also studied accounting and so [The Ticker] … was definitely a good creative outlet," she said.
After taking a photography class at Baruch, Marocchi discovered that she enjoyed taking pictures of architecture and portraits of other students.
Marocchi, who moved to America from Argentina at 17 years old, became involved in the pastry business when her family sold their home in Argentina and opened a bakery in America.
"It was always my mom's dream to open a cafe bakery … and that's how I got into the pastry world, from something that … was a family-owned business," she said. "We had the bakery for like seven years and then we sold it and by then I was fully committed to pastry."
Although Marocchi's journey led her down a different trajectory than she had originally charted for herself, she is grateful for where her experiences have led her and encourages others to also be open to unanticipated opportunities.
"I think it's a little bit the way my life usually works, you know, whatever I plan, then God decides something else," Marocchi said. "Be open to whatever, however, your life might unfold, because the path may turn out to be different than what you envisioned or you had planned, but it actually might be wonderful."