Celebrating Ticker Alumni: Mort Gerberg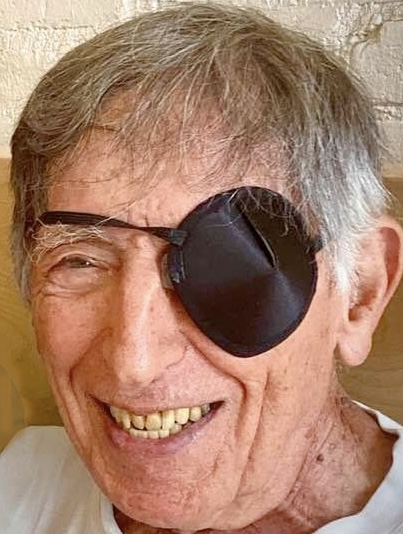 The Ticker was founded in 1932 as the student run newspaper of City College's Downtown Campus, making 2022 the newspaper's 90th anniversary. To honor and celebrate the legacy of The Ticker and of the members who kept it running, the News section will be publishing profiles of former Ticker members from throughout the years.
***
Throughout his life, Baruch College and Ticker alumnus Mort Gerberg has had an extensive career. While he has been well-known for his acclaimed cartoons featured in magazines like Playboy and The New Yorker, he has also had success as a reporter and published author.
Gerberg joined The Ticker during his time at Baruch College and created cartoons. He also employed satire and humor.
"For student council there was always something going on . . . students were really apathetic, they didn't really care about what was going on," he said. "And you could run somebody for student council that didn't exist and they would vote for them."
Gerberg told a story about a campaign for a non-existent person named Broom that occurred during his time at Baruch.
"There was a slogan, 'A new Broom sweeps clean, vote for Broom for student council,' and I made this gigantic sign," he said. "We went to one of the basketball games at Madison Square Garden and unrolled it around the balcony . . . so you can see it on television. And I think we made our point because Broom came in second. It probably got me started thinking a little bit further about cartooning because that's what it is, making fun of things and hopefully pointing out some errors and changes."
Gerberg's experience with The Ticker was both formative and enjoyable. He created cartoons that readers of The Ticker look forward to finding in each weekly issue.
"It was a lot of fun and I kept doing it," Gerberg said. "And I had a wonderful farewell cartoon which was of myself when I graduated in 1952 . . . I also used the names of my fraternity brothers in sigma Beta Phi . . . Then years later, people would look to see if their names were in my cartoons."
Since the start of the pandemic, Gerberg has been living in Colorado, but aside from changing location, much of his activities remain the same.
"The routine is the same," he said. "I always have been working by myself. I sit in my room. I write, I draw, I talk on the telephone . . . Sometimes I do Zoom . . . it's just more difficult to be in touch with people for some reason . . . it's the communication that I miss."
Before moving to Colorado, he was a proud and loyal New Yorker who lived in the Upper West Side.
"We lived there for 44 years and I never wanted to leave, never, ever, ever and life makes you change," he said.
He currently spends time creating cartoons on contract for The New Yorker magazine, working on homemade cards for his family members and creating cartoons for his social media accounts. Gerberg said that the cartoons he draws are reflections of the prominent events and figures shaping today's society.
"I didn't start doing the social media till 2016 when Trump came in, so that sort of got me going," Gerberg said.
He described the creative process of cartooning as reaction-based.
"Basically, it's really very simple," he said. "As far as I'm concerned, when I examine it, my ideas come from being pissed off, things that really bother me."
As a creator, Gerberg said that he is largely influenced by the world that surrounds him; he is as much an observer as he is an artist.
"I put it a little bit more elegantly when I was doing a talk up in Cape Cod a couple of years ago, probably after eating all the seafood up there," he said. "I think most cartoonists, although we all work in different ways, is like an oyster . . . an oyster swims around . . . and as it's swimming along, there's all kinds of stuff that's surrounding the oyster, schmutz, bits of this, sand and stuff. And every once in a while, a piece of schmutz gets under the shell of the oyster, and in response or reaction, the oyster produces a pearl. So, in the same way this cartoonist is walking around . . . I'm looking at people, things happen . . . these things get under my skin and irritate me. In response I produce a pearl of wisdom."
Gerberg explained that the external response to his work motivates him. Through his adaptation to social media, he has been able to see that people resonate with his work even with the limitations that distance, especially during the pandemic, place on the connection between creator and audience.
"I get a nice feeling, you know, when I produce a cartoon or I put it up on Instagram," Gerberg said. "Recently it was 500 responses . . . People say oh, yeah, Mort, you really got that. I love that . . . That there's something you find a commonality with and that it rings a bell."
Gerberg said that his life experience have led him to his "pearls of wisdom." Those experiences show an evolution from a child on the sidelines to a man in the middle of the action.
"I drew as a kid, everybody draws," Gerberg said. "I went to a lot of public schools moving around a lot but I was also taking piano lessons and playing punch ball in the street. I was just this kid who could draw a little bit . . .I went to Lafayette High School. I thought I would try to do a comic strip . . . there was already a comic strip being drawn. It was so good . . . I thought, 'Oh my god, I can't compete with this,' . . . So, I waited and finally the person who was doing it graduated so then I did my comic strip . . . it turned out that the person who was doing this comic strip, who was so much better than I was, was Maurice Sendak."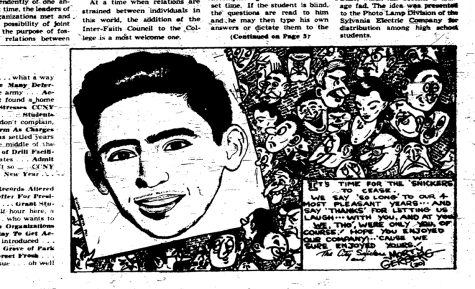 Although he waited before creating his first comic strip, he eventually overcame his trepidations and internal comparisons of himself to artist Sendak, who later became renowned as the illustrator and children's book author who brought readers "Where the Wild Things Are."
After graduating from college, Gerberg was drafted in the U.S. Army. He was sent to Alaska, and volunteered to work on The Alaskan Post.
"I was familiar with laying out a newspaper, I got familiar with how to put headlines on . . . that was my job for a year and a half in the Army," he said. "And I would say that was a very, very good year and a half for me. I really wanted to be a reporter at that point. I was really interested in journalism."
When he returned from the Army, the next step in his journey was the business world.
"I had been in a really conflicted state . . . while I had been working at Cosmopolitan and Ziff Davis," he said. "I had a salary; it was a regular nine to five job. Basically, I didn't like being told what to do . . . I would do mailing pieces, brochures, book covers . . . It was stuff that was not me."
Gerberg recalled that he was unhappy.
"I smashed my hand banging in a door and I said, 'That's being really destructive. That's very crazy. You better get out.'" he said. "That was the reason I went to Mexico . . . I was almost 30 years old at this point. At 30 years old, people already are CEOs . . . I said I really have to go someplace with a totally different environment . . . that suggests a place with a different language."
Gerberg decided to risk leaving the security of his job because he lives by a philosophy of "just try it." He said he did not want regrets.
"It can't hurt," Gerberg said. "If you don't try it, you'll just never know. That was my main motivation for quitting and trying this freelance career . . . Even if I were a success [in sales promotion] I would only be dreaming of the 'what ifs.'"
Over the course of his career, Gerberg's work evolved with the different experiences that he had.
"The evolution I saw was putting more of myself, my own feelings and my own opinions into things, as I got older," he said. "I think when I started doing cartoons, I was just, I was doing jokes. I was thinking of jokes and twists and turns. I mean, I never went to school to learn to draw. I never went to school to learn how to write funny or whatever."
In cartooning, he experimented with techniques, tools and styles. Gerberg embraced change and continued challenging himself to grow.
"I think it's a lot of trial and error that goes on and leaving new room for changes," he said.
Gerberg and his art evolved over time, relating to a larger audience. As his messages resonated with more people, he achieved the goal common to all performers: to be seen and to connect.
"I enjoy the so-called, I wouldn't use the word notoriety, but I got to be known," Gerberg said. "I was the youngest kid in the class. I was always small. I had been skipped [over] when I was a kid . . . being in the paper regularly . . . they would read the cartoons. That gives me a kick. I'm not just banging my head against the wall. Somebody is paying attention to me. That's what every artist, every writer, every musician, anybody who performs anything [wants]."
Others may want to mirror Gerberg's success. However, he doesn't have a simple answer for how to accomplish that objective.
"I don't have any sayings or slogans to follow or anything," Gerberg said. "It's just . . . being aware of what you know, you are somebody who reflects. I have opinions, I respond to them, I allow myself to do that. Which is probably what I did not do when I was a kid. So, it's taken me 90 years."
Gerberg has done a lot over those 90 years. He said that if he isn't satisfied with where he is at, he takes a leap of faith and tries something different. He doesn't let complacency lead him to settle for less than taking on the next big challenge.
He said he has traveled around the world to do repertoires, which involves drawing and writing about a story. He has also covered the 1968 Democratic convention, a U.S. Open Tennis Championship and Knicks games.
"I didn't make any money either, but that's beside the point," Gerberg said. "There's all these books, funny books, a lot of children's books. It's interesting when I look back at all the various things that I have done."