Baruch kicks off Black History Month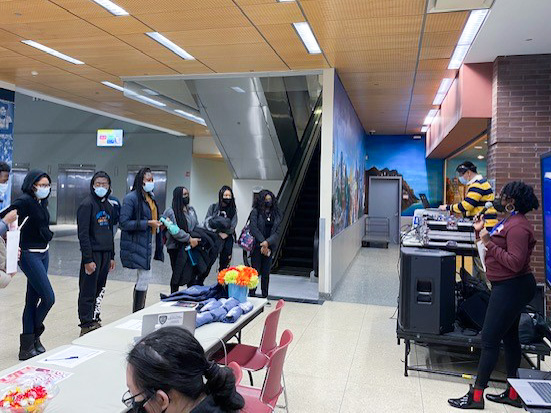 Baruch College's Black History Month Committee kicked off the month-long celebration with its opening ceremony in the Newman Vertical Campus's second floor lobby and on Zoom on Feb. 3.
"It's such a great thing that Baruch is acknowledging Black History Month and doing many events surrounding Black History Month," Tyler Marin, the DJ for the opening ceremony, said. "I definitely wanted to come out and show my support and offer my services any way I can."
Among the festivities at the ceremony was trivia featuring questions relevant to Black history, dancing to music played by Marin and a giveaway of Baruch gear.
Margaret Van-Ess, the Office of Student Life coordinator for the Black History Month
Committee, explained that the committee began recruiting in November 2021 through MyBaruch and the Student Life newsletter and website.
Van-Ess explained that she got involved with the committee due to her passion for bringing recognition to Black culture and history.
"I am truly passionate about bringing recognition to the impact that Black culture and Black history has on society," Van-Ess said. "I make it intentional to celebrate Black culture all year round."
Attendees highlighted the importance of Black History Month and what the month means to them.
Tumi Sadiku, a sophomore majoring in accounting and the marketing chair of the African Student Association at Baruch said that Black History Month is a time to spotlight Black creativity.
"Black History Month, I feel like, is just a time to really spotlight the Black creatives, the Black voices, even though they should be spotlighted all year round," Sadiku said. "This month is the month is the month where we really get to show out, show people what we got."
Maya Gibbs, a sophomore majoring in entrepreneurship, stressed the importance of education during Black History Month.
"I feel like Black History Month is a month where we can get educated, educate each other, on the Black struggles and the good things that come with the Black community and the bad things that we've gone through, and just everything collectively," Gibbs said. "Everybody should be paying attention."
Cherricky Grant-Smith, a junior majoring in marketing management and a transfer student from Barbados, said that Black History Month means a lot to her, but noted it feels normal to her to be surrounded by the history and culture.
"It just feels normal, for me, just like a regular thing, to just go out and be indulged in the all history and the culture that there is," she said. "Just being able to refresh and evaluate with each other as a collective."
The theme for this year's Black History Month, per the Association for the Study of African American Life and History, is Black health and wellness.
Van-Ess noted that issues such as fresh produce accessibility in Black and brown communities, access to proper healthcare and acknowledging the impacts violence and police brutality have on mental health are important when considering health and wellness in the Black community.
Sadiku emphasized the importance of Black people being able to speak openly about their wellbeing.
"Just being more open about how we're feeling, and not being afraid of judgment from each other," Sadiku said. "Just speaking our truths."
Gibbs mentioned the importance of having people to talk to, in addition to events like the opening ceremony, to encourage well-being.
"As Black people, being able to have people to talk to," Gibbs said. "Allowing stuff like this, because honestly, this was really fun. We've been in a pandemic; we weren't able to really connect."
However, she said CUNY could be more active in offering support to its Black students.
"I feel like CUNY should go upfront and be like, 'What do you guys want? How can I help you? What resources do you need?'" Gibbs said.
Grant-Smith agreed that having more events like the opening ceremony could help students' well-being, noting that participants were in high spirits and excited to be involved.
"Everyone was really happy," she said. "Having more events like this will really better foster that health and wellness."
Sadiku and Gibbs also emphasized the importance of Black clubs and their presence on campus. The clubs, including the ASA, the Black Student Union and more, can be found on Baruch's website.
"Check out the Black clubs – there's a lot," Gibbs said.
Van-Ess noted that offerings at Baruch such as the Black Male Initiative, the Black and Latino Studies Department and the Counseling Center are good resources for students to consult to keep their well-being in check.
The Black History Month Committee has many more events planned for the rest of February, including a workout to Afro beats songs and conversations about mental health, all of which can be found on the Black History Month 2022 blog.