Health experts advise safe practices amid COVID-19 endemic speculation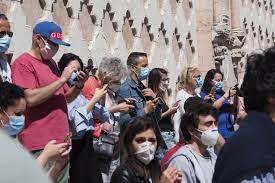 Many scientists and health professionals believe that the omicron variant may be what turns COVID-19 into an endemic, but emphasize this possibility should not encourage people to abandon health and safety guidelines.
If the vaccinated population is infected with omicron and with previous variants, it can create herd immunity among the public.
"All of this comes together to make the perfect scenario to end the pandemic," Shangxin Yang, an assistant professor of pathology and laboratory medicine at the University of California, Los Angeles, told TIME.
"This is exactly how most other pandemics with respiratory pathogens had ended. They spread like fire and then eventually most people either became vaccinated or infected and when the population reached herd immunity, the pandemic ended," Yang continued.
But reaching that endemic point doesn't mean e entirely eradication, health experts warn. Instead, society will have to learn how to live with COVID-19 and its risks as if it is another cold.
Some experts warn that due to the unpredictable nature of COVID-19, the spread can go on for a few more years. Therefore, omicron may not be the end, but instead a beginning of an unrelenting fight that will continue to affect many people's lives.
If COVID-19 does become endemic, safety and health precautions will still need to be put in place and followed, especially for those with pre-existing health conditions or who are immunocompromised.
The return to pre-pandemic life is heavily dependent on the levels of immunity in each nation.
"In Portugal, where 89% of the population is fully vaccinated, COVID already looks like an endemic illness. In Africa, about 85% of people have yet to receive a single dose," reporter James Paton of Bloomberg noted.
The mutated version of COVID-19 known as the omicron variant left health experts and physicians perplexed when it was first discovered in South Africa last year. This highly contagious strain ran rampant through dozens of states nationwide last month and worried experts due to its complex gene sequence.
Still, social distancing and mask wearing have been proven to be effective against contracting COVID-19.
"Self-reported 'always' use of face mask was associated with a 62% reduced risk of predicted COVID-19 even among individuals living in a community with poor social distancing," according to a study published in the National Library of Medicine.
However, not all are willing to abide by such rules. This has inevitably resulted in an alarming spike in cases, leaving health care workers and systems extremely overwhelmed.
Omicron does not seem to cause severe illness and has a less damaging effect on the lungs. Additionally, those who get infected are less likely to be hospitalized, go on a ventilator, or die from its effects.
For those who are unvaccinated, this variant can be dangerous, and for individuals with preexisting health conditions, it can be life-threatening. When it comes to the individuals who are vaccinated, there is a lot more hope.
If a person is vaccinated, the effects of omicron tend to be mild. This may include a sore throat, cold-like symptoms or even no symptoms at all. It is a promising sign that the surges in omicron cases in many states are on the decline.
In essence, it can take years until society can live with the variants as a collective.
Until then, however, health experts continue to urge everyone to follow proper precautions in order to eventually return to our normal lives.