Spotify Wrapped recaps platform users' year of music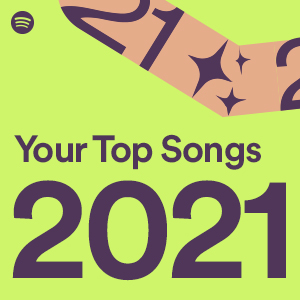 Razia Islam, Science & Technology Editor
December 11, 2021
This year's Spotify Wrapped was released on Dec.1 and took the world by storm.
Spotify has been releasing the trademarked Spotify Wrapped, year in review, since 2015. Spotify users eagerly wait until the first week of December to receive their personalized music statistics with the added bonus of some fun commentary, courtesy of Spotify.
Spotify users from all over the world have been waiting in anticipation of what Baruch College sophomore, Victoria Escala, describes as "the new [personalized] Oscar's."
While this event is exciting to many, others view it as more of an annual report.
"I thought the wrap was just presenting my own details to me and making the songs I listen to more convenient to access," Baruch senior Likhon Roy said. "The whole thing was basically representing my own music data to myself."
Each user receives an interactive presentation, similar in appearance to Instagram's story feature, that details their statistics regarding artists, songs, genres and total minutes spent streaming. At the end of the presentation users are given an unique shareable graphic that states their top five artists, top five most streamed songs, total minutes listened and top genre.
Users are also given a playlist of their top 100 most listened to songs of 2021. The playlist this year includes special video messages from some artists of these songs.
This year, the streaming platform rolled out a few new features that followed their basic Spotify Wrapped format. According to Spotify, this year's theme was "The Movie."
"If 2021 was a movie, you were the main character," read one of the cards in the Spotify Wrapped story, in an effort to further personalize this review.
Some users, including Baruch sophomore Aamina Mohammed, expressed their disappointment with this year's wrap-up.
"I felt like the records didn't match up. I was disappointed because last year's Spotfiy Wrapped was better than this year's. For example, the section for repeated songs, it gave me a song I barely listened to. One thing I probably liked was the aura," Mohamed said.
Despite the mixed reactions from users, many still enjoyed the new features created by Spotify.
"My favourite feature was your music vibe, which was happy and soothing for me," Roy said.
The newly added Audio Aura feature assigned colors corresponding to the two "music moods" given to each user. This is just one example of the many new features set out for this 2021's Spotify Wrapped.
Earlier this year, Spotify released a feature called, Blended Playlists, which allows "for two users to merge their musical tastes into one shared playlist made just for them, making it even easier for users to connect, discover, and bond over the music they love with one another."
This feature was implemented into this year's Spotify Wrapped and allowed users to compare their 2021 listening statistics with a friend.
The platform has also decided to play around with the genres feature for this year, including obscure genres like "otacore," "weirdcore" and "Dream SMP" — the final being a tribute to a popular Minecraft YouTuber.
Spotify Wrapped, while taking only a few minutes at most to be viewed, is a project that takes months of planning. Rasmus Wangelin, Spotify's Global Head of Brand Design, says that "design explorations for Wrapped actually start in June every year."
Despite the intensive planning, the overall design of this year's Spotify Wrapped has had mixed reactions.
In particular, the page listing the users' top genres has gotten some criticism. "While the text is barely even legible, we can't decide whether using the font was a stroke of genius, because so many people are now talking about it," Creative Bloq staff writer Amelia Bamsey wrote.
There's always room for improvement, according to Baruch sophomore Escala., "I think Spotify should have a link where you can see all your Spotify Wrapped from over the years," she said.
"I think Spotify Wrapped is creative and original but it's not as exciting for me because I don't use Spotify much," Jenny Lin, a sophomore, said. "I think other music platforms should create their own twist on it. Spotify Wrapped would be better if it showed a comparison between this year and the previous year."
Luckily for Lin, and many others who are not Spotify users, other streaming platforms have been following in suit of Spotify and releasing their own year reviews for users. Apple Music has been releasing "Apple Relay" since 2019. More recently, YouTube Music has also followed suit and released "2021 Recap" this year.
As Spotify Wrapped continues to grow in popularity, it is not unlikely to expect more streaming platforms, perhaps even other than music streaming platforms, to release their own versions of a yearly review for their users. It is a great marketing campaign and definitely gets the crowd talking.