Thousands gather in Central Park for Global Citizen Live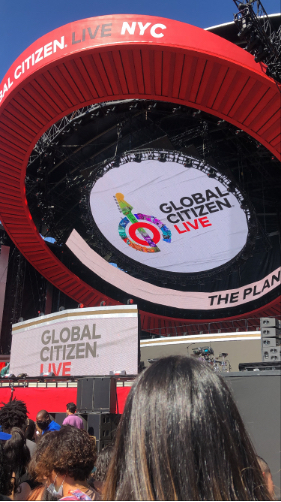 With over 60,000 people in attendance, Global Citizen Live took Central Park by storm on Sept. 25. With performances from the likes of Cyndi Lauper, Shawn Mendes, Burna Boy, Lizzo, Camila Cabello, Meek Mill, Lang Lang, Jennifer Lopez, Billie Eilish and headlining act Coldplay, it was definitely a night to remember.
Global Citizen Live called for action to halt climate change, eradicate poverty, increase the distribution of vaccines in underdeveloped countries and encourage global equity.
Due to the pandemic and for safety reasons, participants were required to show proof of vaccination or a negative COVID-19 test to attend. Masks were required to be worn at all times, as stated on tickets; however, this was not enforced throughout the event in any of the seven hosting cities.
The festival kicked off with a rendition of Bob Marley's "Get Up Stand Up" by artists from all hosting cities and was followed by a cover of "One Love," with singers including Marley's grandson, Skip Marley. Cyndi Lauper went on stage after and performed her female empowerment anthem "Girls Just Want To Have Fun," dedicating it to women and girls from Afghanistan.
In addition, Lizzo made headlines for speaking about the issue of institutional racism during her set. Her performances include hits such as "Truth Hurts," "Good as Hell," "Rumors" and "Juice." In the middle of her per formance, she discussed the history of Central Park being once known as an affluent African American community called Seneca Village.
"And if you don't talk about our history, how can we build a better future? It's time to talk about things," she said.
One of the most notable moments arguably came from Prince Harry and Meghan, the former Duke and Duchess of Sussex. They came on stage to call for global vaccine equity and denounce the unfair distribution of COVID-19 vaccines.
"My wife and I believe that where you're born should not dictate your ability to survive," Harry said. "So Global Citizens, we ask you tonight: Do you think we should start treating access to the vaccine as a basic human right?"
Artists were ecstatic to be able to perform on a live stage again after two years of online performances and attendees were delighted to see some of music's biggest names back in their element. With a mixture of great music and a strong message, Global Citizen Live in New York City was a success.