Newman Vertical Campus and library building's namesake William Newman dies at the age of 92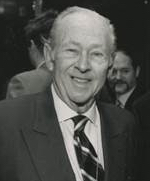 William Newman, Baruch College's Newman Vertical Campus and Newman Library Building's namesake, died on Feb. 24 at the age of 92.
Newman graduated from the Zicklin School of Business in 1947 with a Bachelor of Business Administration, and in 1997 he was awarded an honorary doctorate.
Newman "served as a trustee of The Baruch College Fund from 1993 to 2012 and as a trustee emeritus until his passing," according to an obituary posted to The New York Times' website.
He went on to join his father's accounting firm and from there developed his own real estate company, the New Plan Excel Realty Trust, which is now merged with Centro Properties Group.
The company focused on developing and redeveloping shopping centers.
As of 2005, it owned "more than 400 properties and total assets of approximately $4 billion," according to a Baruch College Alumni Magazine article written about Newman and his wife, Anita Newman.
Newman's success in real estate enabled him to give back to the school at which he was a legacy student — both his parents and his brother, Joseph, attended Baruch, then called City Downtown, before him — and it was this philanthropic spirit that made him such an integral part of the school.
Over the years, Newman and his wife donated millions of dollars, including the $25 million donation that supported the construction of the vertical campus.
It is because of this that his name is donned on a total of seven buildings, facilities, positions and programs.
Additionally, Newman's generosity also prompted him to meet with students and share some of his insights with them, such as when he networked with Zicklin students at the International Council of Shopping Centers' Conference in June 2018.
"Bill cared deeply about Baruch and its students, faculty, and staff, and he was extraordinarily generous during his long life," Baruch President Mitchel B. Wallerstein stated in an email blast that he sent to students and staff.
"He will be remembered and honored by future generations for his enduring support and his vision for what Baruch could become."
Max Berger, president of the Baruch College Fund and 1968 graduate, said he believes Newman's extraordinary charitableness allowed for the school to grow to where it is today.
"In many ways, Bill Newman is largely responsible for the renaissance of Baruch College that began in the early 1990s and has accelerated over the past two decades," Berger told The Ticker in an emailed statement.
"There is a straight line from where the college is today back to Bill Newman's leadership and vision 25 years ago. His impact has been enormous. He will be deeply missed but his legacy will live on for many generations of students whose path to the 'American Dream' begins with a Baruch degree."