The European Super League: Greed like we have never seen before
On a random Sunday in April, the football world was rattled by a gargantuan announcement from Europe's elite clubs.
The top clubs in Europe have decided to form a "Super League" that will include, thus far, 12 clubs: Manchester City, Liverpool, Manchester United, Arsenal, Tottenham Hotspur, Chelsea, Barcelona, Real Madrid, Atletico Madrid, Juventus, AC Milan and Inter Milan.
However, this super league was halted in quick fashion as the football world united in protest against it.
The overall goal of this league is to create a full league out of 20 teams, with only five teams that can qualify annually. The 12 teams already involved in the league stated that this will be a midweek tournament that would, essentially, replace the Union of European Football Associations Champions League and these teams would continue to compete in their respective, domestic leagues. However, UEFA and FIFA aren't very into the idea of a super league.
They have both come out and announced that they will bar any player that participates in the super league from playing in any of their competitions, which includes the biggest sporting event in the world: the World Cup. That's a massive statement. Imagine a World Cup with no Lionel Messi or Cristiano Ronaldo. However, UEFA has said that, at least, for this season the semifinals of the Champions League may carry on with the rebellious Real Madrid, Chelsea and Manchester City.
As of writing this the ESL seems to have been thrown in the trash. It has now suspended clubs like Chelsea, Manchester City and Arsenal, along with others who have decided to back out.
Even though this super league probably won't happen anytime soon, it's still the biggest thing to happen in the world of football in quite some time. Something that has already shifted the landscape forever, and definitely not in a good way.
This decision was based solely on money. The super league has been described by many as the death of the beautiful game of football and here's why.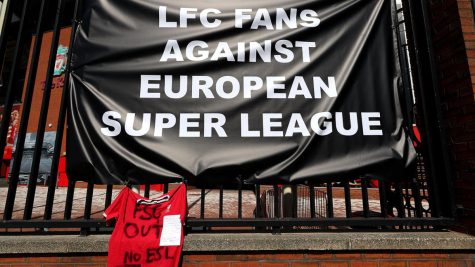 First and foremost, the uproar that this has caused has been cataclysmic. The decision for a super league is a big slap in the face to all the fans of these clubs, especially from the likes of Liverpool and Manchester United which were clubs built from the ground up.
Liverpool, a club for the people of the working class in Merseyside, has sold itself out for money. The fans of all of these teams feel like they've had their hearts torn out.
From fans of Liverpool to United, from Chelsea to Atletico Madrid, fans everywhere feel that this super league idea could kill the sport and this is not something club owners can apologize for or take back. This is something that will stay in the memory of football fans for a long time. With this super league, all the owners of these clubs saw were dollar signs. Not for a second did they take into account what their own fans wanted, what some of these clubs stand for and what this will do for the future of the game.
This super league would have a catastrophic effect on the smaller clubs across all European leagues as well. The clubs that wanted to break away are the main attractions in their respective leagues. Certain teams rely on Manchester United or Chelsea so they can fill up their stadium and receive the revenue needed to continue to operate. If this super league happened to move forward, these clubs would have lost a vital stream of revenue. For example, in England and in the Football Association Challenge Cup, lower level teams like Crawley Town or Rochdale A.F.C. could have been pitted against the mighty Premier League clubs which makes their game against each other a spectacle that fans do not want to miss. The big teams leaving would take the majority of viewers away from the domestic leagues, putting the clubs left behind in a difficult position.
The passion of the game has now been taken out for many fans of the sport now. Seeing clubs show complete disregard about their fans and their traditions is awful. For many fans around the world, it will take a while to forgive these clubs and others may never do so.
Change needs to happen and that is why fans from these 12 clubs are calling on their owners to sell the club, from Florentino Perez and Real Madrid to Fenway Sports Group and Liverpool. People want and demand change. Without that, football cannot move forward.
In the end though, these owners are forgetting the  most important thing which is that the magic isn't in the money nor is it in the owners. The magic is in the fans. Football is the fans.