ABC News makes history with new president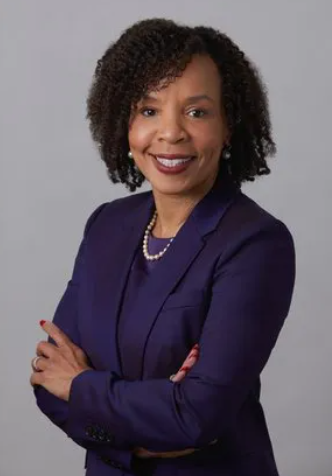 ABC News announced on April 14th that Kimberly Godwin would become its new president, making her the first Black woman to lead a major broadcast network's news division and the first Black woman and Black president to head ABC News.
Godwin currently serves as the executive vice president at CBS News, and she is expected to take over as the president of ABC News in May. As ABC News' future president, Godwin will oversee news gathering operations, digital ventures and programs like "20/20" and "The View," USA Today reported. This all falls under the overseeing of editorial and business operations for broadcast, digital and audio news that she will be expected to handle.
"I stand on the shoulders of giants in journalism who paved the way as members of NABJ. I was mentored by many in this organization and have therefore made it my business to mentor many as I've come along," Godwin said to the National Association of Black Journalists.
Godwin has been with CBS News since 2007. She previously worked on the "CBS Evening News" and oversaw various units, such as CBS Audio Services and their News Standards & Ethics. She was also the executive director for development and diversity, CNN Business said.
Godwin also helped develop the CBS News Race & Culture Unit and CBS Village, with a focus on spotlighting diverse groups. Also, she had experiences in senior leadership prior to CBS. In particular, she has held leadership positions at WCBS-TV in New York City and KNBC-TV in Los Angeles to name a few.
"Throughout Kim's career in global news organizations and local newsrooms, she has distinguished herself as a fierce advocate for excellence, collaboration, inclusion and the vital role of accurate and transparent news reporting," Chairman of Disney General Entertainment Content for Walt Disney Peter Rice said.
The decision came weeks after The Walt Disney Co., ABC News' parent company, unexpectedly disclosed that former President James Goldston was leaving his post after 17 years.
Out of those years, Goldston has been president for seven, The Wrap reported. According to The Wrap, Goldston wrote in a memo sent back in January, that his last day was going to be March 31, and his reason for stepping down was because he was reaching a turning point in his life.
"It's a really tough decision. I've loved every day of my 17 years at ABC News, but in recent times I've always assumed that after this extraordinary election cycle, which we've covered at a full sprint for four years, it would be time for a change. After a great deal of reflection over the last few months, I'm ready for a new adventure," Goldston said.
There has also been pressure for news organizations and networks to prove they are more inclusive and value diversity through actions, not just words, CNN said. Pressure has been heightened by recent injustice and killings of Black people and by businesses being called out for their lack of diversity in the workplace.
ABC has struggled with allegations against longtime executive Barbara Fedida, who left the network over racially insensitive comments in 2020. Among the complaints against Fedida was that she allegedly used the term "low rent" to describe Black co-host from "The View," Sunny Hostin.
CBS is one of ABC News' primary rivals. This is why some found it unusual that Godwin was picked and that some of the other people considered for the president position were from rival companies.
"It is unusual to see a broadcast news division poach an outside candidate for the top job. But it is happening at a time of turnover across the news landscape," CNN said.
The process of finding someone to fulfill the presidential position for ABC News was different than previous years when Disney announced someone was leaving a position. In the past, they have named successors or replacements. For example, when former ABC News head David Westin stepped down, it was announced that Ben Sherwood would step in, Variety reported.
Poynter said that in a memo they obtained that was sent to CBS News employees, President and CEO of CBS Entertainment Group and ViacomCBS George Cheeks said that Godwin chose to accept the position at ABC News because it was a big opportunity, even though he thought she would pursue a future with CBS.
Specifically, Cheeks wrote, "For a while now, Kim and I have been in an ongoing discussion about her future, including new opportunities, at CBS. I know first-hand the affection and passion she has for CBS News. At the same time, she was presented with an opportunity she simply couldn't pass up."
Godwin beat out several other qualified candidates. Some of these candidates include executives within and outside of Disney.
Per Variety, sources that were familiar with the search process said some people that were considered were Wendy McMahon, president of ABC's local stations division and Sam Feist, Washington bureau chief for CNN.
Executives of ABC had indicated that they had a desire to hire someone that demonstrated the ability to manage talent, instead of someone with strong journalism experience. ABC has been managed by a council of senior executives while the search was conducted.
At the time that Godwin begins her new role, ABC will have been at one of its strongest points.
"Good Morning America" on ABC is still the No. 1 morning show in viewers," even though it trails the "Today" show on NBC among adults in its most important demographic, 25-54 year olds, The New York Times said.