Recently approved state budget creates new opportunities for CUNY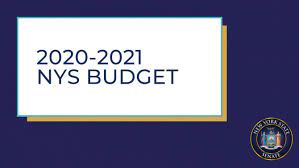 New York State's latest budget carved out over $1 billion in new capital funding for CUNY and SUNY, passed on April 7.
Gov. Andrew Cuomo approved a $212 billion budget for fiscal year 2021-2022, which outlines several funding opportunities for public education, renters, undocumented immigrants and business owners, affordable internet for low-income households and new tax changes, among other things.
"Thanks to the State's strong fiscal management and relentless pursuit to secure the federal support that the pandemic demanded, we not only balanced our budget, we are also making historic investments to reimagine, rebuild and renew New York in the aftermath of the worst health and economic crisis in a century," Cuomo said.
For higher education, the state has provided $7.7 billion, an increase of $283 million or 3.8%, from last year's budget. The budget is comprised of an increase to student programs and financial aid assistance.
Of the $5.4 billion received in federal stimulus aid for New York colleges and universities, SUNY and CUNY have approximately $3 billion to spend over the next 2-3 years in the form of Pell Grants for students that demonstrate high financial need.
The maximum award amount from the Tuition Assistance Program, or TAP, is now $5,665, an increase of $500. Approximately 185,000 New York student residents will benefit from this. A four-year plan has also been enacted to "fund the gap in financial aid between TAP and tuition that is covered by SUNY and CUNY tuition credits," according to Cuomo's FY 2022 Budget statement.
For over 200,000 community college students, funding has increased by 98%, offering a $50 per student increase, from $2,947 to $3,197, in college aid.
According to CUNY's preliminary analysis of the state and city enacted budgets, $1.5 million of funding is restored for the CUNY School of Labor and Urban Studies and $250,000 for the Pipeline Program at the Graduate Center.
$5.6 million in funding was provided to SEEK, $835,000 was provided to Lehman College ACE Learning Center, $150,000 provided to CUNY LEADS, $20,000 provided to Medgar Evers Programmatic Initiatives and $1 million provided to CUNY's mental health services.
For students who were unable to complete academic requirements because they were affected by the pandemic, the enacted budget includes legislation that protects and extends the financial aid duration limit.
Concerning the economic devastation caused by the COVID-19 pandemic, Cuomo's budget also highlighted ways to rebuild the economy by offering training programs to in-demand jobs for New York college and university students.
Opportunity programs and training centers for financially and academically disadvantaged students have received $247 million, a $30 million or 20% increase.
The SUNY and CUNY system will train an estimated 2,500 workers at the beginning of the summer.
Starting in the fall, the budget will allow SUNY and CUNY colleges to give priority admission to their nursing programs as a part of the BSN in 10 law to enhance patient care and the nursing profession.
According to the University of Buffalo School of Nursing, the BSN in 10 law states that "in order to maintain licensure as a registered professional nurse in New York State (NYS), registered nurses (RNs) must have attained a baccalaureate degree or higher in nursing within 10 years of initial licensure."
This allows 40,000 nurses and nursing candidates to receive their baccalaureate of science degree at an affordable cost.
"This budget will enable CUNY to uphold its historic mission of providing a first-rate public education to all students, regardless of means or background — and affirms the University as a vital and catalyzing partner in the recovery of our city and state," CUNY Chancellor Felix Matos Rodríguez said in a statement.