Baruch student's BagsbyPrags offers sustainable and creative tote bags
Many students have been laid off from their jobs as a result of the COVID-19 pandemic. Looking to earn some extra cash, some have used their creativity to come up with new ways to make money.
Pragati Khatri, a 20-year-old junior at Baruch College who is majoring in corporate communications was motivated to start her own
company during the pandemic.
In July 2020, after the NYC Plastic Ban went into effect, Khatri launched BagsbyPrags, a customizable, hand-stitched, embroidered tote bag company.
"My inspiration for starting this business came from my friends and family. During the pandemic, it kept me busy as I wanted to pick up a new hobby, and I also really wanted to learn how to stitch," Khatri said.
Khatri worked for the NYC Department of Housing and Preservation before starting BagsbyPrags. Most of her business development was placed on hold after the pandemic broke out as the internships she had planned for the spring and summer semesters were canceled and her quest for different paid internships became difficult to locate.
Khatri explained that when she first started her company, she was concerned about her ability to succeed during these unprecedented times.
"I had a lot of fears about starting my business. One fear, in particular, was whether or not I would be successful. I had this fear that I wouldn't sell and that despite my work to market and advertise BagsbyPrags, I just wouldn't be successful," she said.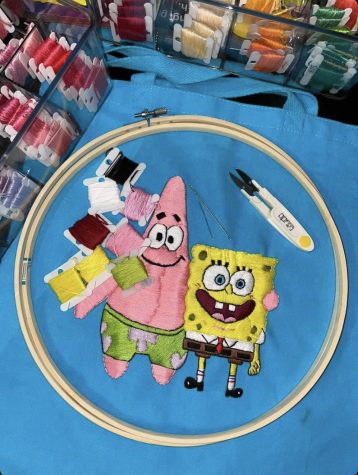 "I was also very fearful and more so hesitant to start BagsbyPrags because I was more worried about how people would like my designs, given that I'm pretty new to the industry."
The most difficult aspect of running a start-up, according to Khatri, is keeping on top of social media pages because it's difficult to share content and work at the same time. At the moment, Khatri runs BagsbyPrags company accounts on Instagram, Tik Tok and Facebook. Typically, it takes Khatri two to three weeks to finish making each product. While working on her bags, she also has to make time to do homework as a full-time student. She strives to balance her time finishing her schoolwork during the day and embroiders at night.
One of the most fulfilling aspects of her business is seeing her clients' feedback to her work.
"For me, I find it rewarding when my clients really appreciate and enjoy their designed tote-bags," she said.
Khatri also finds joy in producing environmentally-friendly bags.
"My mission to do my part in saving the planet. I encourage my customers in that sense by promoting the benefits of reusable bags. It's rewarding to provide customized reusable bags," Khatri said.
Within a year, she wants to see BagsbyPrags prosper and raise enough money to afford to buy a sewing machine. In five years, Khatri hopes to see BagsbyPrags expand internationally.
People have misconceptions about starting a business, says Khatri, because they think they would have no one to rely on. She asserts that no matter what company you try to start, you will have someone on your side.
In her case, it was her mother, whom she regards as a design expert. She also gained the help of her sister and her friend who assisted her with social media.
She was concerned that no one outside of her friends and family would know about BagsbyPrags, despite the fact that she had her friends and family support.
"I was totally wrong there. I had people from all over NYC support me and buy from, which I am extremely grateful for."
Khatri was particularly proud of the fact that she had sold out two months into the market.
She began with at least a dozen bags, and by September, she was looking for local wholesalers in her neighborhood to replenish her supplies because she was in desperate need of more bags.
"My experience shopping with BagsbyPrags was seamless and easy, something very important and highly appreciated during COVID times where people were generally cautious about going out in the early stages of the pandemic," Sargam Mehra, one of BagsbyPrags' customers, said.
Mehra also gushed over her purchases.
"My favorite part about shopping with BagsbyPrags was that my tote bags were personally designed and tailored to myspecifications as Khatri showed me her drafts of designs and edited them to my choices before she made them. I ordered two bags from her so far and will definitely order more from her new website soon," she said.
Khartri's advice to young entrepreneurs who are trying to start their business is to be prepared to put in the hours.
"You won't realize the amount of work you will have to put in to make sure that you have an inventory, have materials, and how much time it will take to fulfill orders," she said.
At the same time, the business owner emphasizes that running a business is not all work and no play.
"Another piece of advice I would give is to have fun. You will feel at certain times that you want to give up, but if you feel like that, it means you're not having fun. If you can't have fun and enjoy what you do, you won't see the results you are looking for," Khatri explained.
As the pandemic continues, BagsbyPrags, a business that started in a state of uncertainty, continues to expand, fuelled by Khatri's enthusiasm and sustained by her consistency and hard work.