Queens pickle business goes from pandemic pastime to a local success story
Imagine leaving a full-time, high paying corporate job to sell pickles — but not just any pickles. One may say they are the crunchiest, freshest and most heart-warming pickles in New York City.
That's what one man did during the coronavirus pandemic as a hobby, which ended up becoming a full-time business with excellent intentions and flavor.
Edward Ilyasov, also known as Uncle Edik, is a 28-year-old Bukharian Jew and a fellow CUNY alumnus who graduated from Queens College back in 2013.
Prior to the creation of his popular gourmet pickle business, Uncle Edik's Pickles, Ilyasov served as a Santander Bank associate, an adjunct professor of mathematics at Queens College and a valuations specialist at Deutsche Bank.
"As I'm focusing on growing this business and expanding this business, I realize why you can't find pickles like these in stores," Ilyasov said.
Every pickle is made with love and respect or, as Uncle Edik says it, "lyubov' i uvazheniye."
Rather than throwing the cucumbers into a large bucket and letting the dirt come off, Uncle Edik scrubs each cucumber by hand ensuring cleanliness and pure excellence within each pickle.
Every single morning, he would take a bite of a cucumber from the batch to ensure that the cucumbers are good to work with. Ilyasov would go to different suppliers and if the pickles aren't good, then no production that day.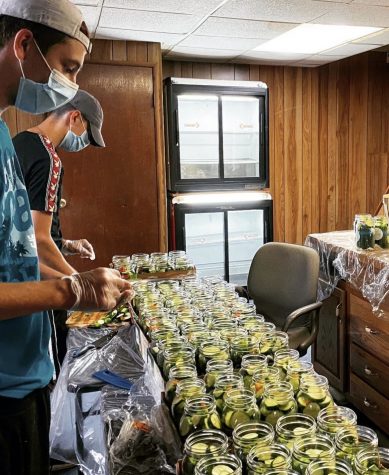 "Quality control doesn't make the pickle amazing, but it adds protection to make sure that it remains at a higher standard," he said.
Unlike every other popular pickle brand, attention to detail and quality is what one will get out of
Uncle Edik's Pickles. Every pickle has a perception of high quality in every single bite.
Clearly, the name Uncle Edik has gained much popularity through the pickle business. But there is something else to learn from this.
When Uncle Edik was asked if it was worth leaving his corporate job for this pickle business, he answered with three simple words: "No answer currently."
However, that is not the end of it.
He left his job to take on a large risk of a business that he envisioned. Although there is no way to know yet if it was worth it since it's still a relatively young business, it is definitely bringing joy to all of his customers.
"The question you have to ask yourself whenever you're earning money in a corporate job is if you would be happy in your boss's shoes ten to twenty years from now," he said. "If you feel that it is a meaningless like where the only goal is money, save up, work those years as a slave of the corporate world, and when you have the opportunity of your interest or hobbies, make something out of it."
Truly inspiring words from one of New York City's upcoming entrepreneurs.
"One thing that is very important in the next five years is to make the word Bukharian something that's known," he said. "I definitely want to be a part of adding that recognition."
The Bukharian culture is one that consists of beautiful food. Uncle Edik's pickles will one day be the face of it.
One cannot say that they are a pickle fanatic, if they haven't tried Uncle Ediks pickles. They are not your average kosher Jewish pickle. They are real Bukharian pickles.
Uncle Edik is someone who gave up a very lucrative lifestyle to give something back. That something is pickles.
"To make something out of this opportunity called life, you have to try it," he said.