PSC endorses Lander for NYC comptroller race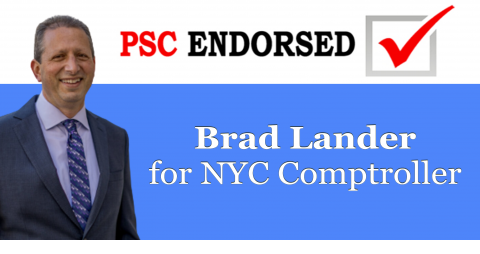 CUNY's faculty and staff union, the Professional Staff Congress, is endorsing Brad Lander, a Brooklyn City Council member for the 39th district, for New York City's new comptroller.
The PSC said the endorsement was because of his "long-time support for educational equity and his progressive vision for a just recovery from COVID."
"In the city's current economic crisis, the role of New York City Comptroller has become more vital than ever," PSC President Barbara Bowen said.
She continued to say that he is the "right person" for the job.
"He will simultaneously safeguard the city's fiscal health and fight for an economic recovery that repudiates austerity," Bowen added. "He understands that an economic crisis that has been devastating to the city's working class, its poor and its communities of color cannot be solved without visionary investment. He knows that investment in CUNY — a New Deal for CUNY— will be essential to any just and inclusive recovery."
Lander is just one of few candidates who are running to replace current Comptroller Scott Stringer, who is term limited. Other candidates include State Senators Brian Benjamin and Kevin Parker and Assembly Member David Weprin.
The city's comptroller is the municipal auditor and fiduciary. Their responsibilities include overseeing how various city agencies are using their allocated funds, managing the city's pension funds, preparing audits and reviewing city contracts according to The City.
The comptroller's office currently has, "over 700 professional staff members," according to the comptroller's office website.
Lander is in support of the "New Deal for CUNY" bill, which proposes funding increases for CUNY, cancelling tuition for all New Yorker residents and increasing the amount of full-time faculty.
His campaign priorities, according to his site, include building the city's economic recovery, holding city officials accountable and securing the future of the city.
PSC Legislative Rep. Luke Elliott-Negri said that Lander has the "right political vision" for being a comptroller.
"He will use the post of comptroller, both its technical and political powers, to fight for CUNY employees, CUNY students and all working New Yorkers," Elliott-Negri said. "We are proud to endorse Council Member Lander, and will work hard to ensure his election."
The PSC represents around 30,000 faculty and staff members at CUNY. It also has endorsed Public Advocate Jumaane Williams to keep his office and announced several other candidates it has endorsed for City Council.
Those endorsed for City Council are Christopher Marte, Erik Bottcher, Keith Powers, Julie Menin, Maria Ordoñez, Diana Ayala, Tiffany Caban, Jaslin Kaur, Adrienne Adams, Felicia Singh, Sandy Nurse and Alexa Aviles.