Political science department welcomes new chair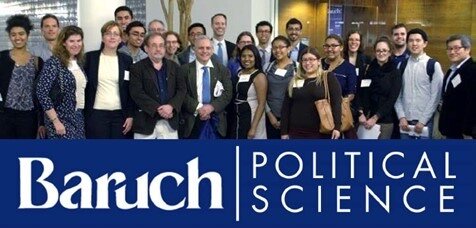 Baruch College's Department of Political Science announced via Twitter that professor Stephanie Golob was taking over the role of department chair for professor David Jones back on Jan. 29.
Jones, who served as chair of the department for six years and is currently on sabbatical, will remain as a full-time professor of political science after the transition.
"We're excited to announce that starting today, Prof. Stephanie Golob will be the chair of our department," the tweet read. "She takes over from Prof. David Jones, who did an amazing job as chair for the past 6 years and will now be enjoying a well-deserved sabbatical."
Golob has a Bachelor of Arts from Yale University and a master's degree and doctorate from Harvard University and is an associate professor at Baruch and teaches "The United States in an Age of Globalization,", "Politics of the Third World" and "Latin American and Caribbean Political Systems."
"The Dean's office welcomes Professor Stephanie Golob as the new chair of the Political Science Department," Weissman School of Arts and Sciences Dean Jessica Lang told The Ticker over email. "Dedicated and attentive to student learning and engagement, Professor Golob has a rich history of leadership and activity in Weissman."
Golob currently has two ongoing research projects. One is on, "regional integration in the NAFTA Triad," and the other is about the "globalization of 'rule of law' ideas and their impact on legal and judicial culture in post-authoritarian Chile and Spain," according to her biography on the Political Science Department's website.
Additionally, Golob is a recipient of the Fulbright-Hays Fellowship, for which she worked as a visiting scholar at the Instituto Tecnológico Autónomo de México in Mexico City and as a visiting researcher at the Norman Paterson School of International Affairs at Carleton University in Ottawa, Ontario.
During her time at Baruch and the CUNY Graduate Center, Golob has been awarded the Frank Cass Award for 2002 by the journal, Democratization, the Whiting Teaching Award in the Humanities for 2002-2003, and the Mellon Resident Fellowship at the Grad School's Center for the Humanities for 2006-2007.
"She is the Founding Director of ISLA, the Initiative for the Study of Latin America, a brand-new interdisciplinary Weissman project that promotes the languages, literature, arts, culture, economies, geographies, politics — indeed, all things — Latin American," Lang said of Golob.
"She is the Faculty Advisor for the Latin American and Caribbean Studies (LACS) minor and Affiliated Faculty in the Department of Black and Latinx Studies, and she is also actively engaged in Weissman's Diversity, Equity, and Inclusion Initiative. She has guided and supported the research of many students through her courses, independent studies, and the Honors Thesis. Professor Golob has won prizes and recognition for her own research, which focuses on the mobilization of international law and historical memory in processes of democratization and transitional justice."
To prepare for the role of chair, Golob worked with Jones. Jones explained that they communicated through Zoom and through email during the months leading up to the transition.
"Professor Golob will come into the office with more administrative experience than I had when I became chair for the first time, so I am confident she will be a great chair," Jones told The Ticker in an email interview.
When asked why he stepped down as chair, Jones said that he never planned to hold the position for more than six years, and that by passing it on to somebody new, he would have more time for other parts of his life.
"Nobody gets a Ph.D. in their academic field with the goal of becoming an administrator," he said. "Serving as a department chair is a demanding job that takes time away from other activities I value, namely: family, research, and teaching. So, in my head, I never really envisioned serving more than two terms (six years) … In terms of scholarship, I plan to continue my research into the consequences that distrust in government has on our political system."
During his two terms as chair, Jones put an emphasis on hiring new tenure-track professors who would be not just a good fit for the department at the time of their hiring, but who would also be beneficial in the long term, he said.
"So, I am especially proud that during my time as chair, the department was able to hire three outstanding political scientists who are a part of our current faculty: professors David Lindsey, Marcus Johnson and Viviana Rivera-Burgos," he said. "All three are talented scholars and teachers who are dedicated to the mission of CUNY. I am also especially proud that the faculty hired during my time as chair have helped add valuable diversity to our department and to the courses and mentorship we offer to our students."
As of press time, Golob has been department chair for about three weeks. Her first term is expected to end during the 2022-2023 school year.
"Professor Golob joins a robust cohort of women in leadership roles at Weissman," Lang said. "As the new chair of Political Science, her energy, dedication, and innovation will be felt more broadly as she continues to develop new learning opportunities, and to enrich the Weissman experience."
Editor's Note: Amanda Salazar, who is the managing editor and wrote this article, and Anacaona Rodriguez, who is the news editor, are both political science majors.