How the Yankees went from good to great with one move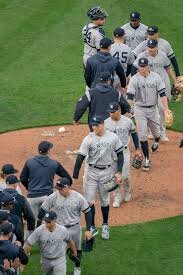 Kasper Gacek
February 14, 2021
Every season in Major League Baseball comes with change. That change always involves player movement, whether it is from rookies coming up from the minors, or from veterans signing contracts to play for another team.
Some of these off-season moves end up being the difference for a contending team. One of those moves could be the New York Yankees signing of starting pitcher Corey Kluber.
Kluber and the Yankees agreed to a one year, $11 million deal which might prove to be a pivotal addition for a Yankees team. championship 28.
Despite his disappointing 2020 season with the Texas Rangers in which, according to the MLB's website, Kluber pitched just one inning before suffering a Grade 2 strain of the teres major muscle, many baseball insiders feel the 34-year-old can still be a dominant pitcher when healthy.
"Kluber marks a low-risk, high-ceiling addition to a New York rotation that features uncertainty behind ace Gerrit Cole," the MLB website wrote.
Coming of his disappointing 2020 campaign, Kluber is motivated to have a bounce back year playing for a contender. "One of my most important criteria when looking for a team was trying to identify a team that was a contender and had a chance to win a World Series," Kluber stated during one of his first Yankee media sessions.
Kluber's close relationship with Eric Cressey, the Yankees Director of Player Health and Performance, may have also proved to play an important role in bringing the ace to the Bronx.
Cressey has been working with Kluber this offseason as Kluber rehabs from a torn right teres muscle in his pitching shoulder which he fractured when he was hit by a line drive pitching against the Marlins last season.
Cressey told MLB Network insider Joel Sherman that Kluber's rehab has been going great and that he's "thrown off a mound several times."
Before his short stint with the Rangers, Kluber was one of baseball's top pitchers with the Cleveland Indians from 2014 to 2018. The right-hander won two American League Cy Young Awards, an ERA title and was selected to three all-star games during those five seasons. Additionally, Kluber went 83-45 with a 2.85 ERA, averaged 218 innings and 246 strikeouts per season, according to ESPN.
With Kluber in the Yankees' rotation, the Bronx Bombers have a great shot of adding championship 28 to their collection.