CUNY School of Professional Studies Ranks in top 2% of online Bachelor's programs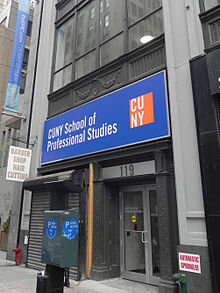 The CUNY School of Professional Studies ranked in the top 2% of the U.S. News & World Report's "Best Online Bachelor's Program for 2021.
"CUNY SPS has further burnished its reputation as a standard-bearer in the online education space, and with good reason: the value it adds to our University and our city and region continues to expand along with the quality and quantity of the educational programs it offers," CUNY Chancellor Félix Matos Rodríguez said. "The unfortunate circumstances of the pandemic have increased the imperative for higher education to expand its digital footprint, and CUNY SPS has helped our University do just that, making it possible for a growing number of New Yorkers to pursue their educational and professional goals."
CUNY SPS now ranks No. 8 in the nation out of 357 educational institutions. CUNY also received an overall score of 92 out of 100. Due to the achievements the school has gained, CUNY SPS became one of the top 10 online colleges in the nation. The school is also the highest listed program in New York State, tied with SUNY Buffalo.
"We are especially gratified to see that our faculty and staff's efforts to provide the highest quality and affordable educational experience for our students so that they can meet their goals and succeed, particularly during this year of upheaval, has been recognized once again by such a highly valued publication," CUNY SPS Founding Dean John Mogulescu said. "Our top ten listing further cements our longstanding reputation as a leader in online education, not only across CUNY and New York City, but throughout the state and the nation."
The ranking provided by the U.S. News & World report joins a long list of achievements given to the institution in the past years for its online programs which include programs, services and initiatives that are geared toward helping adults complete their academic and professional goals.
After the COVID-19 pandemic spread to the United States, schools across the nation transitioned to a remote learning environment. CUNY SPS shared its online learning expertise with the rest of CUNY.
SPS created and led a course dedicated to professional development and online teaching essentials in May 2020, helping over 2,500 faculty members across the CUNY community learn the best practices of online teaching.
The school has been offering online BA programs since 2006 in an effort to cater to "busy working adults balancing full-time careers, family lifestyles."
CUNY SPS has been named by the U.S. News & World Report as one of the nation's top online schools on multiple occasions.