Interim Provost McCarthy announces retirement, Zicklin professor appointed as replacement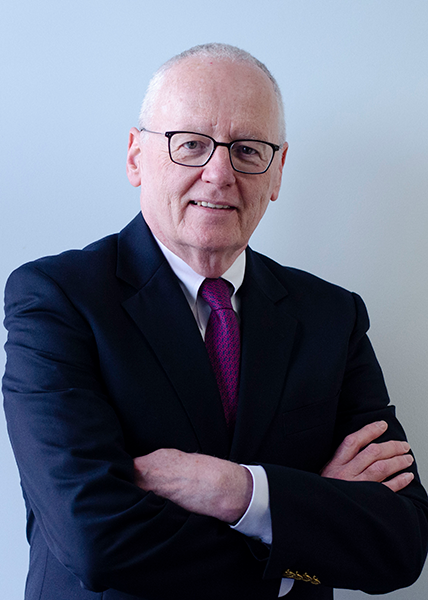 Baruch College's Interim Acting Provost and Senior Vice President for Academic Affairs James McCarthy retired from his temporary position on Jan. 31, just a few months before his term was set to expire.
The announcement came in the form of an email from Baruch College President S. David Wu, who explained that the decision was due to long-haul health issues as a result of McCarthy having previously caught the coronavirus.
At the beginning of the coronavirus pandemic, McCarthy had a potential exposure to the virus, and by March 20, he began to develop symptoms, he explained in an April 15 "Message from the Provost."
By March 24, his condition worsened to the point that he was admitted to Yale New Haven Hospital, where he remained for 10 days receiving treatment and an official COVID-19 diagnosis. He was discharged on April 2 and mostly recovered by then.
"Almost reflexively, I think I initially framed the narrative of my recent experience around the concept of luck," McCarthy wrote in his message. "I was 'lucky' to get some advance notice of exposure; I was 'lucky' to be in a place where I could comfortably self-isolate and have the support of a strong family network; I was 'lucky' my wife recognized that my situation was deteriorating and took rapid, effective action; I was 'lucky' to have full access to a world-class academic health center 20 minutes from where I live."
"But, as our Baruch colleague Professor of Political Science Mitchel Cohen has pointed out in a provocative new essay in the journal Dissent, luck really had nothing to do with it; this is a narrative more appropriately viewed through the frame of 'privilege,'" he continued. "Take every one of those 'lucky's' in the above paragraph and replace it with 'privileged' and the narrative becomes much more accurate, more powerful, and more tragic."
After a four-week absence, McCarthy returned to Baruch, albeit remotely, in early- to mid-April.
McCarthy had started his interim term on Aug. 1, 2019, to replace six-year long Provost and Senior Vice President for Academic Affairs David Christy, who announced his retirement during the 2019-2020 school year.
However, this was not McCarthy's first time serving the Baruch community as provost. From June 2007 through January 2012, he held the same position, leaving when the school settled on Christy as his permanent replacement.
During his second time at Baruch, McCarthy helped the college through the Middle States Commission on Higher Education's reaccreditation process, which occurs every 10 years and affects the financial aid that the public university system can provide for its students, such as the Pell Grant.
According to Wu, McCarthy also aided the school in its preparation for remote learning and its handling of the Black Lives Matter movement and protests that occurred during the summer of 2020.
"As soon as the MSCHE evaluators left campus after their final visit in March 2020, Jim asked Baruch's leadership team to stay in the conference room to start planning for the likely pivot to distance learning as a potential campus shutdown loomed due to the Covid-19 pandemic," Wu wrote in his email blast. "The historic transition to the virtual campus environment was not without hurdles and challenges, but Jim helped steady the course for Baruch."
"As protests against racial injustice soon galvanized New York City and the nation, Jim inspired the creation of Baruch's Community Connections website, where he expressed — and promoted the expression of — points of view and experiences related to social injustice and the pandemic," he continued. "Even before I joined the College officially in July, I charged Jim to lead the Task Force for the Future, with foci on the immediate needs for the 2020–21 academic year and on the College's longer-term future."
In an interview with The Ticker last school year, McCarthy explained that he expected to be interim provost for at most 20 months — and that he absolutely was not planning to stay on permanently or for a longer-term.
At the end of his term, the newly appointed permanent provost was supposed to take over. Since McCarthy retired earlier than expected, the school's search committee has not yet settled on a permanent provost to appoint.
Until the administration finds a new permanent provost, Baruch will be under the leadership of yet another interim acting provost.
In the same email, Wu announced that Larry Zicklin School of Business Professor Dr. Myung-Soo Lee will be the college's next interim acting provost and senior vice president for academic affairs. Lee has been a professor of marketing and international business at Baruch for over three decades.
"Professor Lee is a renowned scholar in the areas of consumer information research and a versatile leader in higher education," Wu wrote in his email announcement. "Since joining the faculty of the Zicklin School of Business in 1990, Myung-Soo has held numerous leadership positions, including Chair of the Allen G. Aaronson Department of Marketing and International Business, Associate Dean for Academic Affairs, and Interim Dean of the Zicklin School. As the Vice Provost for Global Strategies, Myung-Soo led the College's internationalization efforts with a focus on improving students' global competencies and experiences on campus and expanding Baruch's global reach through strategic international partnerships, including dual-degree programs with institutions in Israel, China and Italy, among others."
Lee assumed his new position on Feb. 1 and is expected to hold it until August 2021. The search committee is expected to have its permanent provost appointee by July 1.