USG reflects on a remote fall semester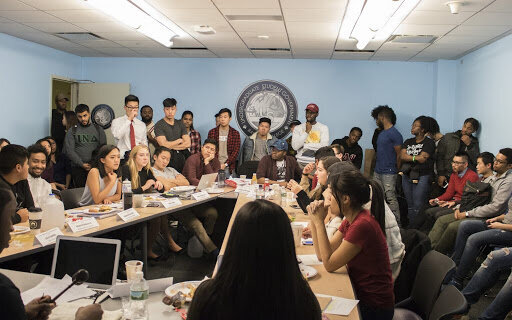 Baruch College's Undergraduate Student Government spoke with The Ticker about the remote semester.
In a previous interview, USG members said their priority for the semester was students' engagement. Executive Vice President Briana Staten said one of the organization's accomplishments this semester was achieving that.
"Being able to retain student engagement within a virtual setting through new and innovative events such as virtual escape the room during homecoming, chitchat sessions such as tea time, and making friends in COVID allowed students to get more comfortable and the opportunity to meet new people," Staten said, which was something she believes USG excelled in.
Genesis Calle, USG's executive secretary, said that the remote nature of learning this term didn't hold it back from completing this goal.
"Just in fall 2020 alone, we had such great and interactive events, such as 'Welcome Week,' 'Charity Week' and 'Homecoming,'" she said.
Another issue that USG members feel they succeeded in was in engaging students in school and national affairs. Staten said the organization was able to incorporate, "A lot more advocacy and vocalizing the student voice through surveys and resolutions."
One event in particular that accomplished this was the "Voter Registration Drive."
"Our VP of Legislative Affairs, Richard Reyes, and his team worked hard to gather together all the tools and resources they needed to educate the audience with the importance of voting and the impact each and every one of us can have on our society just by doing so," Calle said. "The impressive turnout the event had, with over 120 attendees, as well as the amazing guest speakers we had, including President Wu, showed USG that, despite the presence of the usual giveaways and food at past USG in-person events, students were still interested in attending online USG events, and especially to learn more about how they could use their voice and vote to make a difference in a time where political hot button issues are all around us, and in the weeks before such a decisive presidential election."
USG President Tony Chen said he also appreciated the efforts made to get students more involved in affairs that interest them.
"As you might have seen in our actions this semester, we are always trying to provide students a space to communicate with each other in this virtual setting by planning many social events and be vocal to administration regarding policies that are crucial to students in this kind of time," Chen said.
Despite its efforts this semester, USG is looking forward to continuing their efforts of connecting students with each other and offering resources for the spring semester.
"I am hoping USG to take a similar route to be the voice of students actively. USG is still moving forward to the next semester following our model for this semester, which is advocating for students' academic interest to administration and help the general student body to stay connected to each other," Chen said.
Despite USG working on distributing resources to students this semester, Calle said she'd like to continue ensuring that students are getting much-needed resources, information and wellness events.
"I believe as a USG we have done the best we can with keeping the student body in the know with all the recent updates and changes we've been facing throughout the semester," she said.
She also recommended students attend USG's weekly Senate meetings to keep up with updates. The information for each meeting can be found on USG's social media pages. Minutes for all past meetings can be found here.
Staten said she'd like to focus on USG's budget efficiency next semester in order to increase student engagement virtually.
Calle had a message for Baruch students who are struggling during the coronavirus pandemic.
"Throughout these uncertain times, I hope you've given yourself a chance to embark on your own personal journey of self-care and wellness. It may be hard to find the motivation and drive to continue being productive while attending classes or doing work from a computer screen, but do not let that stop you from accomplishing all the goals and dreams you set for yourself," she said.