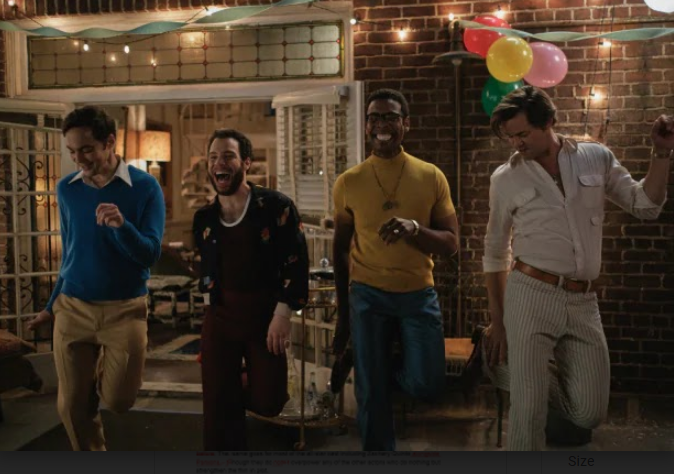 Joe Mantello's The Boys in the Band premiered Sept. 30 on Netflix. The film is a charming and timely piece and evocative of Manhattan's Lower West Side circa late 1960s. It does justice to its audience, absorbing the viewer into a day in the life of one broke — yet decadent — alcoholic man hosting an eight-person dinner party for his best friend's birthday.
Reviving the once taboo off-Broadway 1968 production by Mart Crowley, the film does not take the route of a typical bubble gum pastiche musical, as normally expected from most films translated from stage to screen.
The Boys in the Band is riveting and unpretentious in its attempts to lure the audience into the ambiance of the script. The decor is reminiscent of the highly romanticized era of 1960s New York City.
The acting is realistic and almost intuitive, and the actors were casted directly from the 2018 revived production. Jim Parsons' tortured soul act detaches him completely from the roles audiences are familiar with.. The same goes for most of the all-star cast including Zachary Quinto alongside Parsons, though they do not overpower any of the other actors who do nothing but strengthen the film in plot.
The Boys in the Band distinguishes itself by addressing and destroying the gay male archetype on screens. The movie avoids the same repeated and tired out portrayals.
This film — though guilty in some aspects — takes on the challenge of representation in an antsy, sometimes teeth clenching yet nonetheless comical way. By introducing characters from completely different backgrounds brought together by their sexual identity despite the looming threat of hatred and violence by an uninvited dinner guest, inclusivity becomes a significant element of the film.
The film's accessibility makes it convenient, heartfelt and available any time at the swipe of a screen. It is the perfect film to settle into a cozy fall evening.
What the film delivers on and makes up for inaccessibility, it lacks in marketing, which is most likely why many had no idea this film was even available to stream outside of word of mouth or the occasional random Instagram advertisement.
Those who have negatively commented on the film serve a piece of food for thought, bringing into question if the original play had only found such success because of its timely release in the midst of the Stonewall Riots when no one dared excavate into such topics.
If not for its historical context, would it just be another film about a dinner party gone wrong and would the implicit undercurrents of the relationships just be the result of resentment and overzealous jealousy and nothing deeper?
All things considered, this film is enjoyable in its dramatic, yet sometimes sensitive twists on love and friendship between men. Running at 122 minutes long, it doesn't feel like a burden on the viewer to sit through, instead, it is well worth the watch.