'They are in the classrooms of life': CUNY union rallies with electeds to protect professors and students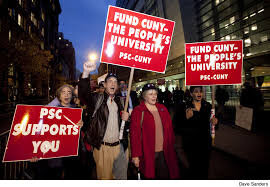 PSC President Barbara Bowen led the discussion that included State Senator Andrew Gournardes, Brooklyn Borough President Eric Adams and Comptroller Scott Stringer.
Assemblymembers Harvey Epstein, Walter Mosley and Yuh-Line Niou also spoke at the conference.
The event, titled "Protect CUNY to Fight Systemic Racial Injustice," spoke to students' and PSC members' concerns over the budget cuts that are being imposed on the university from the state, which for several schools has manifested in a streak of layoffs.
Potentially thousands of adjunct professors and lecturers will lose their jobs by June 30; John Jay College of Criminal Justice will alone be laying off 450 semester-by-semester adjuncts.
This all is coming during a global pandemic that has severely hurt the country's economy. Without employment, these professors will be without an income and without health insurance, something the conference's speakers call unacceptable.
"In this moment, investment in CUNY is even more urgent than it was in May," Bowen said in her opening. "This is a moment to invest in the resources that are needed to sustain and help to counter the economic structures and racist economic structures in which we live. CUNY at its best can be one of those resources."
Mosley echoed this sentiment, going on to say that CUNY is going to receive more applicants than ever after the COVID-19, or novel coronavirus, pandemic has devastated the city's economy.
Without funding and support for the largest urban university system in the nation, these students will be the ones facing the consequences.
"In anticipation of what we know is to come — and that's probably a deep recession in lieu of everything that we've experience over these past several months — CUNY will again step into that dam, they'll step into that gap where students would have gone to other colleges and universities all throughout the county, they'll look at CUNY now more than ever as a viable option . . ." Mosley said.
The Borough President was quick to point out during his allotted speaking time that CUNY students are highly politically active and invested in social justice, as many are also fighting alongside the union to keep their professors from losing their jobs.
"When I go and participate with marchers for housing and speak to people who are there, you know who they are? Oftentimes they're CUNY students," Adams, a graduate of John Jay, said. "When I talk about access to healthcare and fighting for the rights of healthcare, I find CUNY students leading the conversation. As I march through the streets during the #BlackLivesMatter movement, the diversity of the marchers and I talk to the young people who are there — again, I find CUNY students. CUNY students are not only in the classrooms. They are in the classrooms of life."
Of a similar vein, Niou said that she believes investing in CUNY and its students is essentially the same as investing in the state's future.
"We have to fight to ensure that our institutions like CUNY are given a fighting chance to provide services that our community so deeply needs," Niou, a Baruch College alumna, said. "And we need to fully fund our CUNY system, because investing in our students, right now, is actually investing in New York's recovery."
Editor's Note: This article was originally published in Kings County Politics but is being republished with permission from the Editor-in-Chief.