Woody Allen's delayed A Rainy Day in New York is drenched in disappointment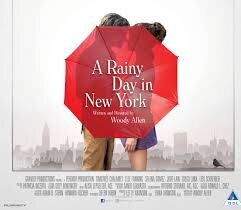 A Rainy Day in New York, written and directed by Woody Allen is about a wealthy young college student named Gatsby Welles, played by Timothée Chalamet, who decides to treat his girlfriend and aspiring journalist Ashleigh Enright — who has landed an interview with big time movie director Roland Pollard for their school's newspaper — to a lavish weekend in New York City. The weekend proves to be a complete whirlwind of endless adventure and realizations for the both of them.
The first downfall of this film has to be the lack of likeability in the characters. Gatsby Welles is a wealthy college student who spends the majority of the film just moping around. He claims that he is rebelling against a life of "pretentious appropriateness" when he is legitimately the textbook definition of pretentious. He's rich, cries about being rich, transfers out of an Ivy League university due to it being too structured and is great at poker. All this my-life-is-hard-because-I-am-so-rich is such a boring and bland take on a character that had the opportunity to be far more complex. He uses a cigarette holder to smoke and blabs about listening to vinyl and literature.
One of the funniest lines that Gatsby's girlfriend Ashleigh Enright, played by Elle Fanning, says is "I don't want to come off as a twit." This becomes laughable because that is exactly what she does throughout the entirety of the film. She is ditzy and spends the majority of the film giggling after each line.
The most relatable and likeable character in A Rainy Day in New York is Chan Tyrell. Portrayed by Selena Gomez, Chan is a witty and spunky girl who happens to know Gatsby through her older sister. Chan has the most colorful lines in the film and genuinely added a bit of spark to the film. She is also the one who challenges Gatsby, hitting him with the important questions and supplying the most entertaining bits of banter.
Though the film as a whole feels tired and dragged, the cast is what really makes the film somewhat shine. Chalamet is a great actor who can communicate emotion through the screen. The on-screen dynamics between Chalamet and his co-stars work so well. The banter between Chalamet and Gomez's characters really made the hour and 30 minutes a bit easier. Actors such as Jude Law, Diego Luna and Liev Schreiber are also in the film, adding their talents to the already star-studded cast.
One of the most uncomfortable aspects of the film was the way that men and women are portrayed. Ashleigh is the physical embodiment of a rich airhead attempting to create a great story yet breaking journalistic rules on the way. She is portrayed as this naïve girl who will just run off to get the story without taking into consideration what she is getting into.
The men in this film are somewhat intense and foreboding. Gatsby bumps into an old friend and they commence in conversation. Gatsby tells him that he's in New York with his girlfriend because she is interviewing a film director to which his friend replies "I wouldn't trust my girl with a big time Hollywood director."
The line gathers even more worrisome meanings considering Allen has been accused of sexual abuse and because the men that Ashleigh meets tend to fall into that weird stereotype. These men all develop a crush on her, and we see how Francisco Vega, a famous actor played by Luna, manages to get her out of a party and almost into his bed just because of his status. The fact that she is a huge fan makes him aware of his power over her.
This film was originally completed in 2018 but the film's distributer, Amazon Studios, halted its release due to the resurgence of a sexual abuse accusation against Allen. The film's original release clashed with the early stages of the #MeToo movement and Amazon Studios pulled out. This led Allen to file a $68 million lawsuit against them. In May 2019, the film's U.S. distribution rights were given back to Allen. The lawsuit was settled between them and they filed a joint notice that ended up dismissing the case.
Both Chalamet and Gomez decided to donate their salaries as a way to show their support with the #MeToo movement. Chalamet donated to RAINN, Time's Up and the LGBTQ Center of New York and Gomez donated her salary to Time's Up.
The film resembles fragments of well-known films such as Cameron Crowe's Almost Famous, 1979's cult classic The Warriors and British rom-com Starter for 10. Both, A Rainy Day in New York and Almost Famous center around a young, aspiring journalist trying to conduct an interview while facing many challenges. The Warriors deals with a gang traveling through New York City trying to get to their turf just like Gatsby running around Manhattan trying to meet up with Ashleigh at their final date destination. Gatsby is also faced with deciding if he is with the right person, which parallels Brian in Starter for 10.
Hype for the film has fluctuated, with fans first being excited to hear about the film and seeing behind the scenes photos that were everywhere in 2018. After the film was shelved and all hope for a release was gone, the hype died down and rightfully so. Simply put, this film just did not need to be made.
The film overall is super predictable and in 2020 there are many other films created with uniqueness and individuality that are better than what this film was attempting to be.