Impersonating Ariana Grande as Cat Valentine is degrading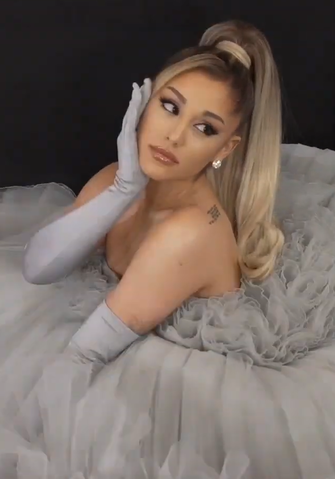 Doing impressions of celebrities can be fun, but in Ariana Grande's case, people who depict her often portray the fictional character she played on Nickelodeon's Victorious when she was 16 years old, who is far from the person that the singer is today.
Grande rightfully made it clear on Instagram that she is not a fan of impersonators that combine her personality traits with that of her Victorious character, Cat Valentine.
Her role as Cat Valentine earned her more recognition as an actress, especially since the character had a ditzy, bubbly and sensitive personality that set her apart from the rest of the characters in Victorious and its spin-off show, Sam & Cat.
Last year, Paige Niemann, who has 61 million likes on TikTok, went viral for impersonating Grande.
A Grande fan account reposted one of Niemann's TikTok videos, where she is dressed like Grande with her signature high ponytail and winged eyeliner, but is acting out a voiceover of Cat Valentine.
"I just wonder whyyyy the Cat voice/dialogue," Grande replied on Twitter. "I am sure she is the sweetest sweet sweetheart forreal!! but it's definitely bizarre seeing people blend the two worlds."
The mashup of both Grande today and Cat Valentine is what makes these impressions degrading to Grande. They do not give justice to either personality.
Grande reposted a video of filmmaker Jordan Firstman doing "impressions," and in one he does an impression of a "meme."
"What if we, like, we took a moment, like a small clip from a movie or a TV show. Something that, like, an artist really poured their soul into and it, like, it just took them years to make," Firstman said. "What if we took a moment from that and we kind of, like, recontextualized it — like, does that make sense? And we put a completely arbitrary meaning onto that thing that the artist loves so much? Kind of, like, degrading its entire value.
Grande agreed with Firstman and shared her ideas, specifically calling out the people who copy her signature look and impersonate her on social media.
"Omg can this please also double as your impression of the ponytail TikTok girls who think doing the Cat Valentine voice and that wearing winged eyeliner and a sweatshirt is doing a good impersonation of me," Grande wrote on the now-deleted Instagram story. "'Degrading its entire value' I screamed."
In fan-made videos, it's rare to see an impression of Grande without some kind of essence of Cat Valentine and vice versa.
Grande calling out the impersonators shouldn't be viewed as her hating on the character she played or the impersonators themselves.
"I couldn't have spent my teenage years with a better, more funny, talented group of human beings," Grande wrote on Instagram on the show's 10-year anniversary. "I really loved playing Cat Valentine (even though sometimes people think I actually still speak and act like that and her essence will lovingly haunt me til I die)."
Impressions of a favorite celebrity or fictional character are fine as long as it is done correctly.