Student assaulted in Kingsborough bathroom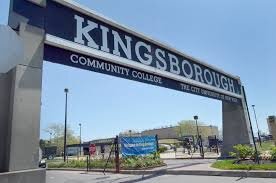 A female student at CUNY's Kingsborough Community College was sexually assaulted on Nov. 25 in a bathroom of the school's library.
According to an article from Bklyner, the student had walked into the bathroom and almost entered a stall when she felt a presence behind her. A man that had been hiding in the bathroom when she walked in, then shoved her into the stall and closed the door behind them. He tried and failed to lock the door behind him, and then sexually assaulted her.
The student was able to escape "before things escalated further," an article from PIX 11 News reports. She didn't know the man who attacked her — and it hasn't been determined yet if he is also a Kingsborough College student — but she did tell police she might remember seeing him in the area around the college before.
Police are still looking for the man who attacked the student, though different news outlets seem to be reporting slightly different physical descriptions of him.
Bklyner described him as "a light-skinned African American or Hispanic man, about 6 feet tall" wearing a black jacket, whereas PIX 11 wrote that he is "about 17 or 18 years old, standing approximately 5 feet, 9 inches, weighing about 160 lbs. with a thin build, brown eyes, and black hair" and last wearing a black hoodie. News 12 Brooklyn, however, reported that he is "six-feet tall, 200 pounds."
The New York Police Department also released a sketch of the assailant in hopes someone will recognize the man.
"It is deeply disturbing to know that a young college student was victimized right here in our community. My prayers are with her during this difficult time," Council Member Chaim Deutsch was quoted as saying in the Bklyner story. "I have every confidence that the NYPD Special Victims Unit will ensure that this case is fully investigated, and an arrest is made."
Kingsborough released a statement about the incident assuring its student and the public the school is taking the situation seriously and taking measures to keep students and staff safe.
"The College is taking all measures to safeguard its students, faculty, and staff and has increased Public Safety's presence on campus. I want you to know that the safety and security of our campus community is our first priority," Kingsborough President Claudia Schrader wrote in an email.
If Baruch students experience sexual violence, including sexual assault, stalking, they can seek assistance from the Title IX Office.