Baruch helps students grapple with food insecurity through grab bags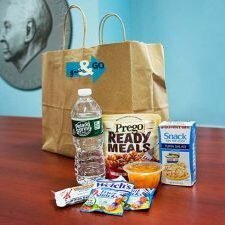 Yehuda Wexler
December 9, 2019
Thankfully, there are safety nets provided by Baruch to help students deal with unforeseen financial difficulties.
There are two primary funds that aid students: the Carroll and Milton Petrie Student Emergency Grant Fund and the Eugene Ling Memorial Fund.
Although the Petrie and Ling grants have been around for years, a new grant specifically for food insecurity was donated this year and is providing funding for two new programs.
The Grab-and-Go Bags program are meant to tide students over for the day, and are packed with filling, nutritious food that can be eaten on the go.
The other new program provides a hot lunch once a month in the Bearcat Den. Along with the lunch is a bag of groceries and a list of recipes using those ingredients.
This ensures that the students have food for at least a few days after the lunch. Students can search "food access" on the Baruch website to apply for this program.
The Petrie Fund is meant to provide a temporary way to help students tide over until graduation.
This grant provides funds for essentials such as rent, transportation, textbooks, food, clothing and medical bills.
The second fund available for students in need is the Eugene Ling Memorial Fund, which provides legal aid to undocumented students, as well as monetary assistance to cover application and other legal fees.
These two funds can sometimes both be used by the same student.
Every enrolled student is eligible for these programs, and to register, students need only to search "Petrie" on the Baruch website.
There is a short interview process to determine need and exactly which services are suitable for each student.
During the interview, the faculty member and student try to make some long-term goals to stay financially solvent.
The Petrie Grant provides specific things such as gift cards to the Hidden City Café and a one-time check to help cover unforeseen expenses.
Grab-and-Go bags can be found at the Office of Student Life by the second-floor lobby and the Office of the Dean of Students on the third floor of the vertical campus.
Students are encouraged to get a job and engage in prudent financial planning.
There are currently 62 students receiving assistance from the emergency fund, and the administration is hoping to spread the word so as to help as many students as possible.