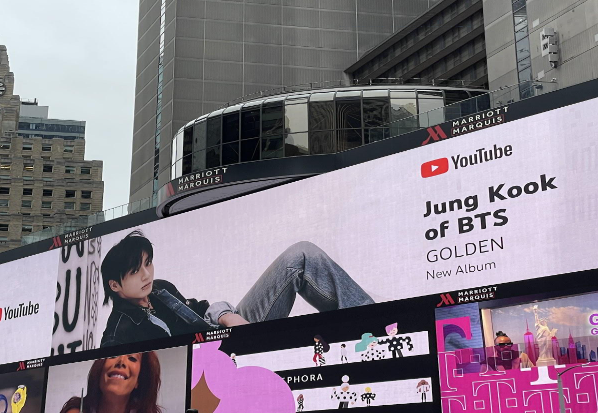 The BTS official X page teased a surprise event from band member Jeon Jungkook in New York City on Nov. 9. Without a time or location, fans quickly began speculating what the 26-year-old Korean popstar had in store. 
Pictures of the TSX stage set up in front of Jungkook's Calvin Klein ad started surfacing on the X app. The buzz on social media fueled fans' excitement to gather at the location quickly. 
The stage, which opened in July, was built on an 18,000-square-foot billboard and graced its towering 46-story flagship in the heart of Times Square. Post Malone was the first artist to give a surprise performance on the stage.  
Police at the scene confirmed that an event would occur at 5:30 p.m. No details about who was performing were given. At 1:30 p.m., the stage doors opened and alarmed the crowd, but it was just for soundcheck purposes. 
It wasn't till 5 p.m., 30 minutes before the event, that the billboard announced BTS' Jungkook would be performing. It was soon followed by the BTS X page confirming the event in Times Square, along with a livestream on Xbox's Twitch Channel and YouTube stream. 
Once the announcement was made, Jungkook's latest album, "Golden," played from the speakers. His music videos for "Standing Next to You" and "Seven" were also broadcast on the billboard. BTS fans, also known as ARMY, sang along until he came out.
Jungkook sang five songs from "Golden" and was accompanied by a dance crew. 
Denisse Romero, a full-time senior fashion business management student at the Fashion Institute of Technology, wasn't expecting the performance. "The concert was absolutely amazing, she said. "Jungkook is a really great performer and singer. I can't believe he performed five songs off his new album for free. There's really no one like Jungkook! I loved the way he interacted with the crowd, and you could hear his mic was ON!" 
Romero said she heard about the event through social media. "I really wanted to attend his TODAY show concert but was unable to, so I knew I had to be there," she said. "The rumors online allowed me to know that he would be performing in Times Square."