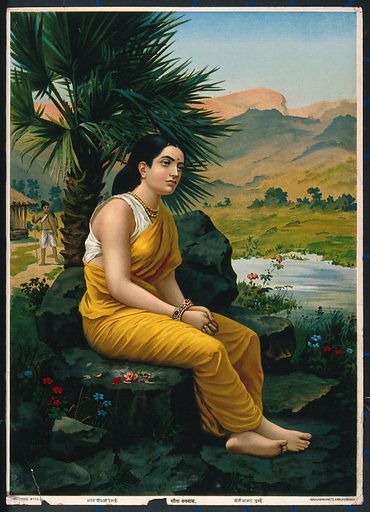 The Baruch Performing Arts Center presented eight staged readings of Lavina Jadhwani's one-woman play "The Sitayana (or How to Make an Exit)" at Baruch College from Oct. 16 to 19. 
The play is based on the ancient Sanskrit epic poem The Ramayana, which recounts the origin story of the Hindu god Rama. 
The poem is rooted in oral tradition, meaning multiple versions of the story exist. Jadhwani's early exposure to the "patriarchal" versions of the epic inspired her to write a rendition that questions the source material's themes of obedience and dharma, or duty. 
Directed by Baruch alum Zeynep Akca, the five-part version is told from the perspective of Rama's wife, Sita, who is widely regarded in Hinduism as a model of the ideal woman. 
"[Sita] has an interesting bite to her that I really enjoy," actress Maya Jeyam said in an interview with The Ticker. "Cause even in these moments where she's compromising, she's putting her needs last. There's still this tenacity that I really enjoy about her."
"The Sitayana" was performed by Jeyam, who portrayed 12 characters, including the titular protagonist, Rama, and the monkey god Hanuman, a devotee of Rama. Jeyam altered her mannerisms and speech when switching characters. She assumed a stiff posture to speak stoically as Prince Rama and moved mischievously with a nasally voice as Hanuman. 
Jayam depicted Sita's initial meeting with Rama, their marriage and eventual separation. 
In the beginning, the 18-year-old Princess Sita is excited to share a life with her new husband, vowing never to leave his side.
Sita is appreciative of Rama's loyalty and protectiveness but starts to question their partnership after numerous incidents.
In both The Ramayana and "The Sitayana," Sita is kidnapped by the lustful demon king Ravana, and she rebuffs his advances while she waits for Rama to save her. 
After Rama rescues Sita, he asks her to prove her purity by walking through fire. In the play, she's offended that her husband insists on testing her when she told him that she continuously rejected Ravana. 
Later on, Rama returns to his kingdom of Ayodhya without Sita, who is pregnant, because of the public's skepticism of her purity. She is exiled to the forest for 14 years and is left to raise their two sons alone. 
Once Sita fulfills the ban, she's escorted back to Ayodhya and reunited with her husband. He's eager to finally settle down with his family after overcoming the numerous battles depicted in the poem.
However, Sita doesn't share the same sentiment. She leaves Rama and decides to live without him, hence the alternate title, "How to Make an Exit."
Jeyam made slight wardrobe changes throughout the reading to symbolize the different stages of Sita's life. She donned a sari following Sita's marriage and, by the end, jumps out of her restrictive skirt to reveal a pair of jeans to represent the character's independence. 
The performance was followed by a talkback moderated by Akca, where students asked questions and gave feedback on the play. 
Jeyam revealed it was her first time performing the work and was given a week to prepare. 
One student asked Jeyam if it was challenging to switch voices from character to character.
"I feel like the hardest parts for me was the quick conversations between Sita and Ram," Jeyam said. 
"Ram's voice was from my chest and Sita's was in my face. So, sentence after sentence I had to go back and forth." 
"The Sitayana" was part of BPAC's Joe Segall Great Works Reading Series and was presented in association with the Nat R. & Martha M. Knaster Charitable Trust. 
BPAC will host a performance by the Julliard-trained classical trio Empire Wild on Oct. 25 at 7 p.m. The event is part of the Silberman Recital Series. Tickets are $25 for Baruch students.