Amid the serene ambiance of the David Zwirner Gallery on East 69th Street, a burst of color and emotion awaits, inviting onlookers into the enigmatic world of Emma McIntyre's "An echo, a stain." Each piece is a symphony of unrestrained brush strokes and evocative hues beckoning viewers to a dance of perception and interpretation.
The gallery opened the New Zealand-based painter's showcase on Sept. 21. Tucked away on the second and third floors of a prewar building on the Upper East Side, the installation is McIntyre's first in New York, following features in Paris, Los Angeles and Wellington, New Zealand.
Most of the paintings boast an explosion of color. Some feature similarly toned backgrounds and elements with a hint or two of bright accents, like the detailed pink peony and the rough blue outlines of flowers in "Duets in the dust."
McIntyre's unrestrained process is made immediate through variations of fine-tipped lines, thick brush strokes, homogeneous rolls of color and distinctly textured patterns. The artist swipes, pours, dabs and draws across the canvas to evoke ambiguous figures. 
"The technique at this point is improvisational, a lot of spontaneous action with various colors and brushes until the image starts to resolve itself," McIntyre said in the gallery's press release. "Sometimes it feels like I can almost see the finished work, and the painting process is about finding it."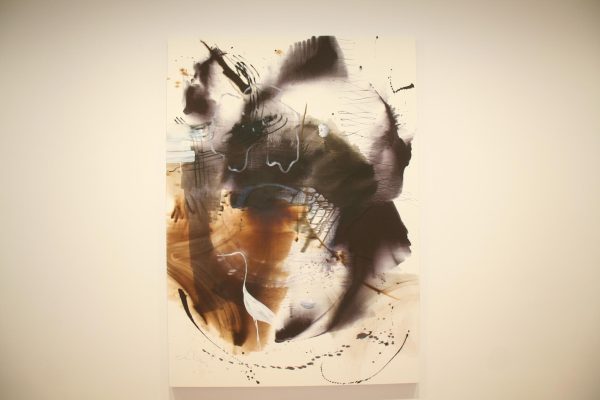 On Sept. 30, attendance was sparse, but visitors found McIntyre's paintings and its venue to be thought-provoking. 
The building's blindingly white walls, carpeted spiral staircase, carefully adorned fireplaces, and more set the mood for the exhibit.
"Context is inescapable, right," sculptor Marco Stefano said. "We can't help but see this where it is. The parquet floors that have brown tones that reflect the piece, the repeated patterns in the molding."
Others pointed out the exhibition's equivocal and seemingly contradicting nature.
"I think I see cloud-like shapes?" Elizabeth Stephens, a lawyer, said. "I think that's interesting. To me, it almost felt more dreamlike, or a bit surreal. Some of the images do have actual shapes and more representative painting, but in a kind of fantastical chaos world, with the smudging and blurring."
Stephens touched upon that unavoidable question of intentionality that often leads gallerygoers to opt out of learning the artist's mentioned purpose in lieu of letting their impressions take the wheel. 
Obvious representations of form — like the white crane in "Laws of night and honey," are a nod to Robert Rauschenberg's famed dadaism and are littered throughout the exhibition. Still, the observer can locate their own shapes scattered across the piece.
Some paintings, like "Madonna of the Rose" and "Duets in the dust," include a particular chemical solution poured over iron pigment, yielding a very rust-colored pigment.
Flowers and grasses of varying detail recur throughout the exhibition, including closely and skillfully painted roses and jagged curves with long stems. 
"Madonna of the Rose" is composed of primitive grass as well as three stalks of what looks like reed grass painted in further detail, followed by the persistent pink rose, which takes on much more detail in other pieces but is smeared. The rust bides its time down at the bottom.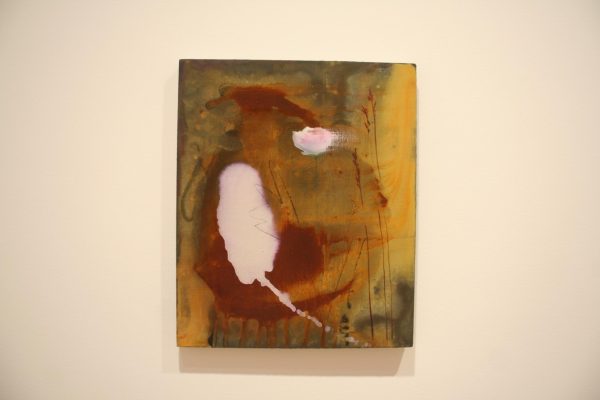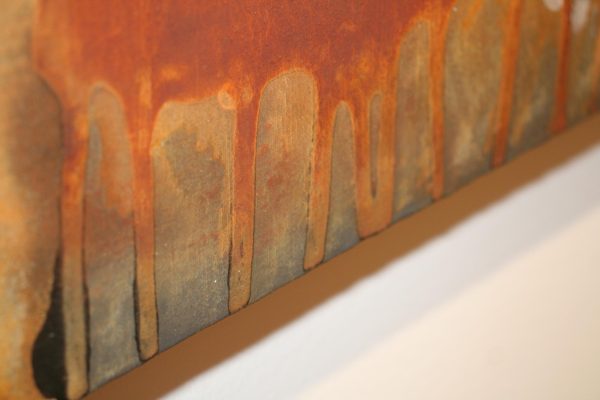 The likely callback to Raphael's "Madonna de la Rosa" is also a prime example of what can be read as an exploration of the ephemerality of existence. McIntyre's basic outlines of life are persistently recognizable in spite of the rust that'll continue its encroachment for years to come. 
McIntyre's sardonic smearing of the blotted pink motif is not unlike the constructed cultural, societal and religious symbols and associations ever-present in society.
The works' transience — or retort to it — and McIntyre's improvisational technique together serve as a manifesto that probes the paradox of life and impels viewers to go ahead and live it while they can.
One passerby didn't immediately assume broader meaning. 
"They're very happy paintings," he said.